The Thriving Communities Report shares stories from around Kansas about people who are working to help build healthy, vibrant, and thriving communities.
Rural Kansas Healthcare Improvement Pilot Projects Announced
With the goal of helping rural areas of the state find ways to assure their residents will have access to quality health care over the long term, organizers of the Kansas Rural Health Systems Improvement Pilot Project have announced the recipients of four pilot project grants. Four "energetic, forward-thinking rural communities" (Cheyenne County, Osborne/Phillips/Smith Counties, Clark County, and Kearny County) were selected to receive grants that will help them to examine their health systems and make substantial improvements in population health, quality, access to care and cost.
Hutchinson Trailhead Provides Vital Connection in Trail Network
Hutchinson, Kansas: Community and corporate commitment leads to new Hutchinson trailhead — The recent dedication of a new trailhead at local grocers, Dillons, provided a critical link for several of Hutchinson's existing trails. "What we needed was more and more connectivity, so that those trails take you to important places you want to go to in your everyday life, because that's what's going to make people more active, living healthier lives every single day." The new trailhead is a "symbol of the community's commitment to healthy and active living".
Living Wage in Allen County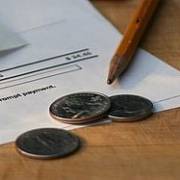 The Poverty in America website offers an interesting Living Wage Calculator that shows the living wage (the amount an individual must earn to support their family, if they are the sole provider and are working full-time) for various family sizes, from an individual ($16,628) to a single parent with 3 children ($55,307), based on assumptions about various living expenses in Allen County (food, transportation, medical, taxes, child care, etc.). The tool also compares these numbers to the state minimum wage, showing that the current minimum wage ($7.25) comes up woefully short for most families, and even the typical wages for common occupations fall well short of a living wage.
See Kansas Living Wages by County for comparisons with other areas of the state.
Walkability Improvements in Douglas County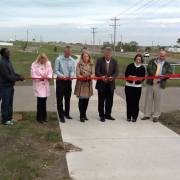 Lawrence, Kansas: WellCommons reports on ongoing efforts to improve the ability to walk for recreation and transportation in Douglas County:
Research shows that where one lives has a substantial impact on physical activity. People who live closer to recreational amenities like parks and trails are likely to have higher rates of physical activity than those who do not. Therefore, a key objective in the community health plan, "Roadmap to a Healthier Douglas County," is to ensure more sidewalk and trail systems in the county.
Douglas County won funding for new trails in Baldwin City, Eudora, and Lawrence, and initiated a new program to help fill in the gaps in the existing Lawrence sidewalk network. Also of note is the launch of a new "Lawrence Pedestrian Coalition", and a new "Healthy Built Environment" work group. "With the new trails and sidewalks, we hope residents are finding it a little easier and safer to achieve recommended levels of activity."
Rural Entrepreneurs Tapping Local Resource in Republic County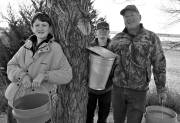 Republic County, Kansas: Entrepreneurs have re-discovered a great local natural resource — abundant maple trees — and have started a business to tap local trees, collect sap, process it to create maple syrup, and supply the finished product to local stores and farmer's markets. Last year, they sold about 8 gallons of product, and hope to increase production by 50% this year.
Story and photo courtesy of Republic County Economic Development.
Recycling Facility To Create 50-100 Jobs in Osage City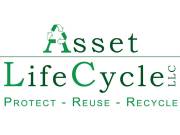 Osage City: A new state-of-the-art e-waste recycling facility is planning to bring up to 200 new jobs to Osage City. Asset LifeCycle provides a way for businesses and municipalities to responsibly and cost-effectively dispose of their surplus or obsolete electronic equipment, while complying with ever-changing environmental laws and regulations. To lure the company to Osage City, the city council authorized an agreement that will provide a rebate on electric service based on investment and hiring.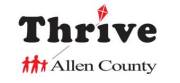 The Thriving Communities Report is a product of Thrive Allen County, which works to improve the quality of life in Allen County by focusing on health, wellness, recreation and education conditions and by engaging people and institutions around a common vision for the future.