The Thriving Communities Report shares stories from around Kansas about people who are working to help build healthy, vibrant, and thriving communities.
Allen County GROW Food Policy Council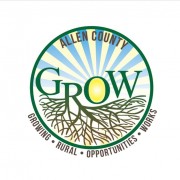 The Allen County Growing Rural Opportunities Works (GROW) Food Policy Council is a new initiative in Allen County. The aim of the council, which is supported by a three-year $100,000 grant from the Kansas Health Foundation, "will be to ensure adequate and healthy food for Allen County residents, as well as to develop and strengthen economic aspects of food delivery through existing and new programs." [learn more]
To find out more information about the council, or how to get involved, please call Thrive at 620-365-8128.
Pittsburg Experiments with Open Streets for ArtWalk Festival

Open Streets, in which streets are temporarily closed to automobile traffic, so that people may use them for walking, bicycling, dancing, playing, and socializing, hasn't had a high profile in Kansas to date, but in Pittsburg, an arts festival closed off Broadway in the center of downtown Pittsburg: "Pedestrians freely moved between booths amid a display of classic cars, food stands and various acts on the pavement. We'd like to see that expanded to where we could have maybe a couple of blocks closed in the future."
Pittsburg Trail Grant Accepted
After winning a competitive grant to build a hiking and biking trail on South Rouse Street in Pittsburg, the project came up for a vote before the city council, to decide whether to accept the funds (totaling over $900,000 between the grant and the local match from private funds) and proceed with the project, or to reject the funds and abandon the trail, as urged by a few vocal opponents of the trail:
Following many public meetings, more than a year of planning and an hour of public input on Tuesday night, Pittsburg city commissioners passed 4-1 to move forward on a trail on South Rouse. The project would build a 10-foot wide trail on the west side of Rouse south of Centennial to the city limits. "It's almost $1 million to the city to take care of a safety issue the city has known about and had in its plans for 20-30 years." [read more]
Hoisington Begins Walking School Bus Program
USD 431 in Hoisington is beginning a new program to improve the health of its schoolchildren: "A Walking School Bus, where a parent volunteers walk with the kids to school, is one of the latest initiatives to get kids outside and combat obesity. The district will have two six week periods where they will have volunteers walk the kids to school in the morning. They will walk for six weeks this fall, and six weeks this spring. The volunteers will teach safety crossing streets, watching for cars, and using sidewalks. The district is also hopeful that the measure will reduce congestion in front of the schools." [learn more]
Registration open for 2014 Barn Fest

"People interested in the preservation and restoration of Kansas barns can get registered for the annual 2014 Kansas Barn Alliance Barn Fest conference and tour, Sept. 26 and 27, in Dickinson County. Learn more from the Kansas Barn Alliance, whose mission is "to discover, memorialize and preserve the story of rural Kansas, especially barns".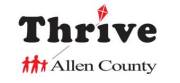 The Thriving Communities Report is a product of Thrive Allen County, which works to improve the quality of life in Allen County by focusing on health, wellness, recreation and education conditions and by engaging people and institutions around a common vision for the future.