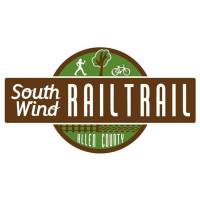 The Southwind Rail Trail is a scenic 6.5-mile trail that connects the two largest communities, Iola and Humboldt, in Allen County. You will see a beautiful historical bridge, wildlife, and more.
The Southwind Rail Trail connects to the 51-mile Prairie Spirit Trail in Iola, for an uninterrupted 58-mile route through southeast Kansas.
The Southwind Rail Trail is open every day from dawn to dusk. It is free to the public for bicycling, walking, and wheelchair access.
Southwind Rail Trail Brochure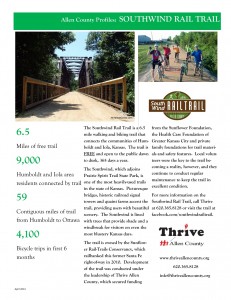 A one-page brochure is available for the Southwind Rail Trail, which provides information about the trail's background, construction, and usage:
The Southwind Rail Trail is a 6.5 mile walking and biking trail that connects the communities of Humboldt and Iola, Kansas. The trail is FREE and open to the public dawn to dusk, 365 days a year.

The Southwind, which adjoins Prairie Spirit Trail State Park, is one of the most heavily-used trails in the state of Kansas. Picturesque bridges, historic railroad signal towers and quaint farms accent the trail, providing users with beautiful scenery. The Southwind is lined with trees that provide shade and a windbreak for visitors on even the most blustery Kansas days.
Download Southwind Rail Trail Brochure