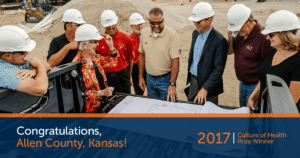 Thrive Allen County is pleased to announce that Allen County has been awarded a "Culture of Health" prize from the Robert Wood Johnson Foundation.
Each year, hundreds of communities across the nation apply for this prestigious honor, but only a few are selected. For 2017, Allen County is one of only eight winners.
The RWJF Culture of Health Prize recognizes communities that have placed a priority on health and are creating powerful partnerships and deep commitments that will enable everyone, especially those facing the greatest challenges, with the opportunity to live well.
The Culture of Health prize recognizes the relentless commitment, under Thrive Allen County's decade of leadership, towards the vision of Allen County as the healthiest rural county in Kansas. We're not there yet, but we've demonstrated outstanding progress:
In its decade of existence, Thrive has gone from a few volunteers with an audacious idea, to the largest rural health advocacy organization in Kansas, with a full-time staff of 10 and a budget of over $800,000 per year. Since its inception, Thrive Allen County has brought in over $4 million of private foundation investment.
Thrive thanks the Allen County community — county leaders, city leaders, the business community, educators, healthcare professionals, residents, and the small army of volunteers that leap into action on projects and initiatives big and small — that made the Culture of Health prize a reality.
Together, we've invested of our time, talents, and treasures to get to this point. We're not done, not by a long shot. The challenges remain. The work continues. But this prize is a public recognition — on a national scale — of our commitment to building and nurturing a Culture of Health in Allen County.