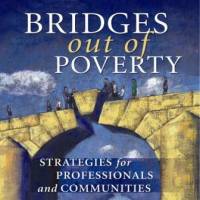 Have you ever wondered why the people who need to work the most are the ones that don't keep the job?   Do they seem to have crisis after crisis, excuse after excuse for not coming to work?  Do you ever wonder "What in the world are these people thinking"???  We invite you to come learn the hidden rules of poverty, middle class and wealth in order to have a better understanding of the driving forces behind the three socio-economic classes.
Our workshop objectives:
Explore mental models of economic poverty, middle class and wealth and the driving forces of each class.  This can be used to motivate employees and build relationships.
Learn the hidden rules of each class in order to better understand and communicate with each other.
Explain how economic realities affect patterns of living and how this impacts what an employee brings with them to the job.
Understand the causes of poverty in order to build resources for employees. Identify the eight resources  a customer or employee needs to succeed.
Identify the eight resources  a customer or employee needs to succeed.
Anita Cooper and Georgia Masterson are both certified as "Bridges Out of Poverty"  presenters.  Anita has worked in the Social Service setting for over 15 years.  She holds a Master Degree in Social Work Administration from the University of Kansas and is currently the Director of Performance Improvement for the East Region of Social and Rehabilitation Services (SRS).   Georgia has worked for SRS for over 20 years.  She currently supervises assistance caseworkers in the Chanute office.  The Bridges materials were the first she encountered that clearly explained why the customers she's worked with all these years react the way they do and why they seem so difficult for middle class caseworkers to communicate and deal with.
The next Bridges session is scheduled at the Chanute DCF office on Wednesday, November 14th, from 1-4.
For more information, please contact:
Georgia Masterson
Human Services Supervisor
Chanute DCF
620-431-5000 x 228