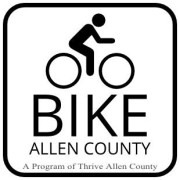 Bike Allen County is an initiative to promote, nurture, and improve bicycling in Allen County, Kansas.
The web site (at BikeAllenCounty.org) provides information for both residents and visitors about bicycling in Allen County — trails, routes, events, news, and more.
The objective of Bike Allen County is to help create a community where bicycling for recreation and transportation is a normal part of everyday life, where it's easy to get around by bike, and where active living is encouraged and celebrated.