David C. Toland, CEO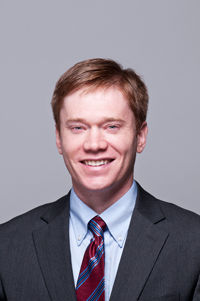 David Toland is the first executive director of Thrive Allen County, a nonprofit coalition that works to improve quality of life and economic conditions in Allen County, Kansas. A seventh-generation Allen Countian, Toland oversees a coalition known statewide for its innovative approaches to improving healthcare access, healthy lifestyles and economic development in a small, rural Kansas county. During his time at Thrive, Allen County's county health ranking has improved 15 points; a new critical access hospital has been built; a new federally-qualified health center (FQHC) has opened; 8 new miles of free walking trails have been constructed; new manufacturing jobs and retail businesses have been recruited to the county; and a new sense of optimism and countywide unity has taken hold among residents and businesses.
Prior to returning to his hometown of Iola Toland worked for six years as an appointee of Washington, DC Mayor Anthony A. Williams. During his time in the District Toland held a variety of positions, including Deputy Chief Operating Officer in the Office of the Deputy Mayor for Planning and Economic Development, where he oversaw for the Deputy Mayor the day-to-day activities of nine city departments. Toland was later appointed as Chief of Staff in the Office of Planning, where he successfully led the legislative effort to obtain city council approval of the 2006 overhaul of the city's controversial Comprehensive Plan. Prior to coming to Washington Toland worked for the city managers of Reno, Nevada and Bonner Springs, Kansas.
In DC Toland also served Vice President of Development and Operations for the Menkiti Group, a Washington-based real estate development company. At Menkiti Toland oversaw a five-fold increase in the company's production of housing units and established new processes and systems to manage the company's portfolio of commercial and residential real estate assets in Washington. Under Toland's leadership the company entered into new partnerships with other developers to further increase the production of affordable housing in Washington, DC, thereby significantly extending the company's reach into previously underserved urban neighborhoods.
Toland holds a B.A. in Political Science and a Master's in Public Administration from the University of Kansas, and a Certified Public Manager (CPM) certificate from George Washington University. He and his wife, Beth, and their two children live in Iola.
Contact: david.toland@thriveallencounty.org
Damaris Kunkler, Program Director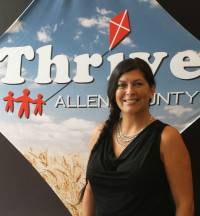 Ms. Kunkler is the Program Director for Thrive Allen County.  Prior to returning to Allen County she was an Oklahoma University Psychology major and worked as a Volunteer, Donations, and Event Coordinator for a non-profit in Norman, Oklahoma.  Ms. Kunkler has been active in many fundraisers and public awareness campaigns to assist with homelessness, the elderly, and children and families in crisis.
She is an active volunteer and has been president and co-chair of community based civic groups and other social service agencies. Ms. Kunkler has volunteered for programs supporting children at risk, families in crisis, the health care and needs for the elderly, and community arts and festivals. She is an Iola resident and mother of two children.
Contact: damaris.kunkler@thriveallencounty.org
Lisse Regehr, Director of Outreach and Advocacy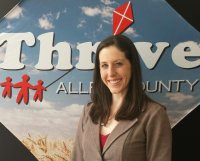 Lisse Regehr is the Director of Outreach and Advocacy for Thrive Allen County. After attaining a B.A. in Mass Communications from Kansas State University, Regehr joined a year-long volunteer program in Minneapolis, MN working on social justice issues in the Twin Cities. Prior to returning to her hometown of Iola, Regehr worked for nine years with the Sisters of St. Joseph Ministries Foundation in St. Paul, MN where she was a Planned Giving Officer and Social Networker. Regehr grew the Foundation's planned giving society by 35%, and as Social Networker, she was responsible for all online communications for the Foundation, including social media sites, online giving sites and e-news distributions. Regehr lives in Iola with her dog, Owen Rowan.
Contact: lisse.regehr@thriveallencounty.org
Jessica McGinnis, Chronic Disease Risk Reduction (CDRR) Program Manager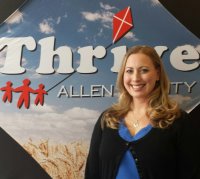 Jessica is Chronic Disease Risk Reduction (CDRR) Program Manager for Thrive Allen County. Jessica is an Allen Community College graduate where she played softball. She then moved on to obtain her B.A. degree in Sports and Recreation Management from Ashford University in Clinton, Iowa. Jessica's passion in sports and recreation started at a young age in her home town in Ottawa, Kansas with a family highly involved in sports and recreation. What began as a personal passion to play sports and gain knowledge in health and wellness, today Jessica's passion is to give back to the community and to educate Allen County residents about health and wellness. Prior to becoming an employee with Thrive Allen County, Jessica was a Family Support Worker with KVC Behavioral Healthcare in Chanute, Kansas where she worked with families and children in foster care. Jessica also was a volunteer with the Movement with Thrive Allen County and continues to volunteer with Iola Recreation coaching softball and being active in adult exercise classes and sports. Jessica is an Iola resident where she lives with her husband, Jeremy and daughter, Riley and two cats, Raver and Jazz.
Contact: jessica.mcginnis@thriveallencounty.org
Bobbi Bonds, 1422 Program Manager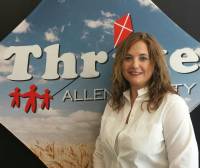 Ms. Bonds is a graduate of Pittsburg State University (BS) and a former resident of Iola. Prior to returning to Allen County, she resided in Springfield Missouri and worked as a District Manager for Acceptance Now, overseeing a program that assisted people in various towns throughout mid-Missouri in establishing or rebuilding credit history.
With an education in Social Work, she has always been concerned with assisting the endless number of people who seem to fall through the cracks in achieving a higher standard of living and quality of life. Over the years, Ms. Bonds has been involved with various community and civic organizations such as the Boys and Girls Club, DEFY, the Weed and Seed Program and Project Charlie where she served as volunteer, board member, educator and/or on the fund raising committee for those programs that address the plight of at-risk children and struggling adults.
Contact: bobbi.bonds@thriveallencounty.org
Elizabeth (Liz) Gambill, Trailblazer Program Manager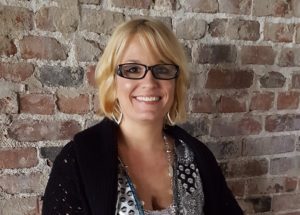 Elizabeth (Liz) Gambill is our Trailblazer Program Manager.  Liz grew up in Iola and attended Iola High School.  After high school she traveled and lived several places across the country, including Virginia and California.  Liz returned to Iola in 2010 and has been an active volunteer with several organizations in our community.  Since 2013 she has been employed with the Southeast Kansas Library System and Iola Public Library.  As part of Liz's job she will work to provide smoking cessation tools and education for people living in public housing, strengthen landlord/tenant relationships within the community, and work with our local congregations to promote and expand healthy communal meals.
Kelli Frazell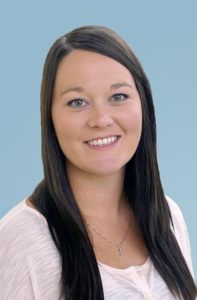 Kelli Frazell is an Allen Community College graduate who attained her B.S. in Exercise and Sports Science from the University of Tulsa and her M.S. in Sports Studies from the United States Sports Academy.   Before returning to her hometown of Iola, Kelli worked as an Account Executive for a marketing and graphics printing company.  Prior to that, she spent many years working for a non-profit organization in healthcare, holding several positions within the company.  Throughout her various positions, she became proficient at building relationships, partnering with organizations, increasing sales, and improving community well being.
Kelli enjoys spending time with family, staying active in team sports such as volleyball and softball, reading, and cooking.  Kelli is currently relocating from Tulsa, OK with her husband Preston and their son, Fisher.
Pepper Weathers, VISTA Housing and Community Development Coordinator

Pepper Weathers is new to Iola, moving here from Pittsburg, KS in search of a more positive and enriching life for herself and her children.  Pepper is a mother of four with a passion rooted in truly helping her fellow women and men, assisting them in achieving their full potential.  Pepper is now our VISTA Housing and Community Development Coordinator, working to break the cycle of poverty by improving housing conditions in Allen County.
Sabrina Greer, VISTA Poverty Services Coordinator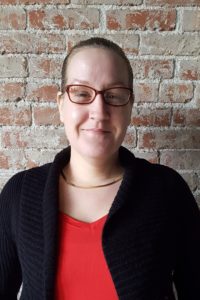 Sabrina was born and raised in Kansas City, moving to Iola nine years ago to raise her children in a safer, more rural environment.  She struggled to find her way and get connected to helpful resources until 2014, when she was introduced to Thrive's Circles program, headed by Georgia Masterson.  Sabrina became a regular member of Circles and made a connection with local employer Sonic Equipment while attending weekly meetings.  She was employed by Sonic Equipment as their receptionist and then cross-trained in several departments.  Sabrina is our VISTA Poverty Services Coordinator and will work to provide services to people in poverty with dignity and equity, mainly through work being done with Humanity House.  Sabrina wants to give back and make sure that people know they have options and not to be discouraged.