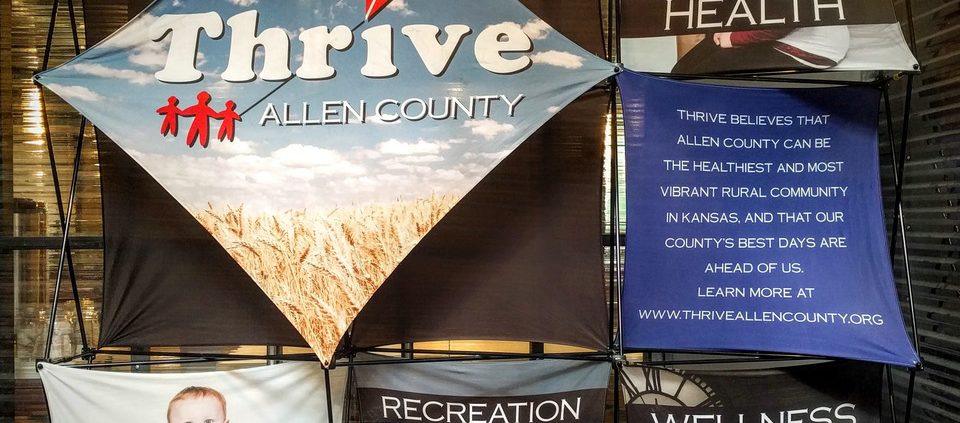 The following is a joint letter from Thrive Allen County CEO David Toland and Board of Directors Chairman Brian Wolfe.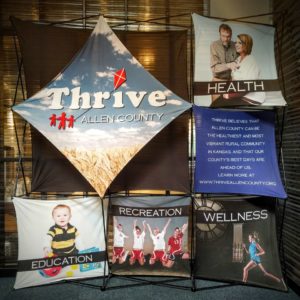 There is something extraordinary happening in Allen County Kansas.
Those of us who live here have felt it building for some time. The state took notice in 2014, when Thrive was designated as the Kansas Organizational Health Champion. Now, with Allen County winning the 2017 Robert Wood Johnson Foundation's Culture of Health prize, the nation's going to hear our story.
And what a story we have to tell.
We live in a place with profound challenges, as well as amazing opportunities. Those two things—challenges and opportunities—go hand in hand.
Allen County is located in southeast Kansas, a region some have dubbed the "Appalachia of the Midwest" due to severe generational poverty. We've experienced nearly-uninterrupted population loss for a century. We've lost our railroad connections, and we are severely dependent on automobiles for everyday transportation. The latest County Health Rankings put us as #92 in the state, with high rates of premature death, smoking, obesity, and physical inactivity. The opioid epidemic is hitting us hard. We live in a state resistant to change, intent on starving public services, and dismissive of the plight of our most vulnerable residents. Popular culture sends the message that people in rural America aren't as smart or sophisticated as people on the coasts, and this has a profound impact on the psyche of a community.
It is tough to survive, let alone thrive, in such an environment. It's easy to give up.
But these are just the conditions that spurred the founding of Thrive Allen County in 2007, by residents who envisioned Allen County as the healthiest community in Kansas, and who believed that their county's best days were ahead.
Fulfilling that vision is a tall order, and we're not there yet. The hard fact is, we're not even close. But the things that Thrive have put into motion in the last decade have laid the foundation for a sustainable Culture of Health in Allen County. The Culture of Health prize is fitting precisely because it aligns so well with what we've been working toward all these years: a local way of life that values active living and makes it easy for people to make healthy choices, a community that thrives in terms of both physical and fiscal health.
That's why the Culture of Health Prize means so much to the people of this community. It is a point of immense pride, a recognition of our dedication and vision, and an important part of the emotional fuel that people need to keep doing the work.
It's no accident that Thrive Allen County has become the largest and most prominent rural health advocacy organization in the state. It is because we reflect the best of our community. We're not afraid to take on the hard issues. We love to innovate. We get results.
It's our hope that what we do here—with healthcare, with education, with recreation and active living, with economic development—can serve as an inspiration and model, that other organizations can take what we do, build on it, and make it their own.
We'd like to thank the Robert Wood Johnson Foundation for honoring Allen County with the Culture of Health prize, and also want to express our appreciation to the organizations who have supported our work through the years, especially the Health Care Foundation of Greater Kansas City, the REACH Healthcare Foundation, the Kansas Health Foundation, the Sunflower Foundation, the Kansas Health Institute, and the Kansas Department of Health and Environment's Bureau of Health Promotion.
Above all, we are deeply thankful for the people of this community—the good, hardworking folks of Allen County—for believing in the vision of a culture of health, and believing that an organization like Thrive is worth the investment of their time, their talents, their treasure…and their dreams.
Together, we'll write the next chapter in this extraordinary story.
Brian D. Wolfe, MD
Chairman
David C. Toland
CEO