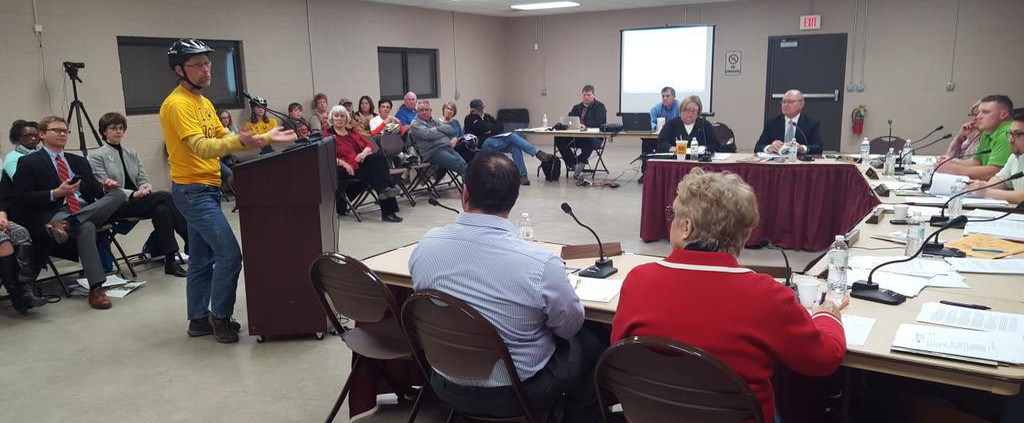 Last night, the Iola City Council enacted a Complete Streets Policy by a unanimous vote.
What is a Complete Streets Policy?
The purpose of the Complete Streets Policy is to use an interdisciplinary approach to incorporate the needs of all Users into the design, construction, and maintenance of public and private transportation infrastructure within Iola where feasible and fiscally appropriate. This Complete Streets Policy establishes guiding principles and practices to create an equitable, balanced, and effective transportation system that encourages walking, bicycling, and transit use, to improve health and reduce environmental impacts, while simultaneously promoting safety for all Users of Streets.
Read the full text of the Iola Complete Streets Policy (PDF)
Speaking before the city council in favor of the Complete Streets Policy were Bobbi Bonds, David Toland, and Randy Rasa of Thrive Allen County, as well as local citizens Mike Jewell, Sue Ellen Warren, and Angel Liberty, with numerous other supporters in attendance, many sporting "I Bike Iola" t-shirts and bicycle helmets.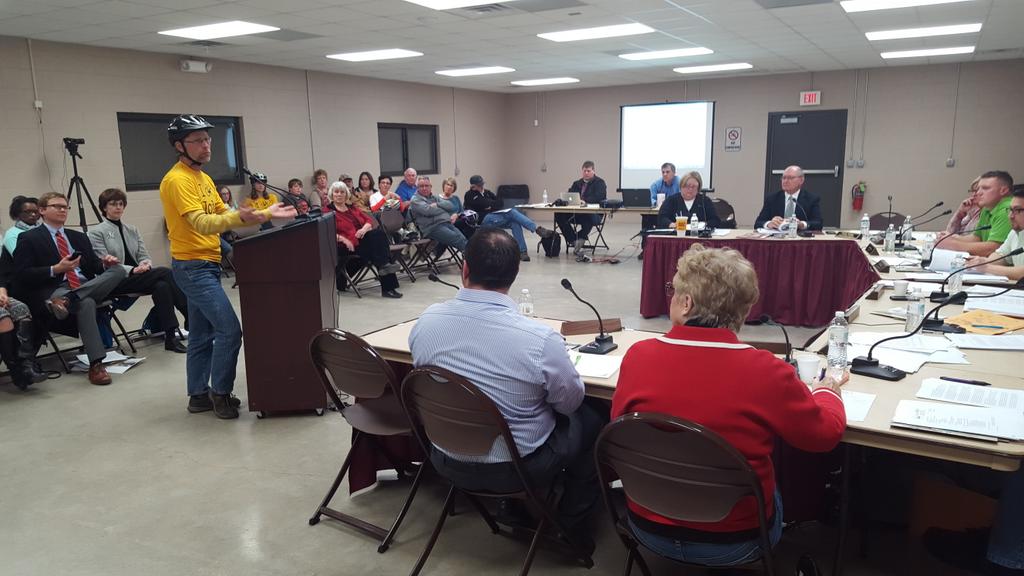 With passage of the policy, Iola becomes the ninth Kansas community to adopt Complete Streets provisions, joining Hutchison, Kansas City Kansas, Lawrence, Leawood, Overland Park, Roeland Park, Topeka, and Wichita, as well as Johnson County, and the Lawrence-Douglas County MPO. Iola is the smallest and most rural of that group, setting a new standard for progressive transportation policy in small-town Kansas.
The Complete Streets Policy was a logical next step for the city, which had been following an informal internal policy of adding sidewalks, curb cuts, enhanced crosswalks, trails, and bicycle sharrows on city streets in recent years as part of ongoing street upgrades and additions.
Allen County has a growing reputation as a leader in off-road trails, having added over 20 miles of  trails in the last decade, between the Prairie Spirit Trail, the Southwind Rail Trail, the Missouri Pacific Recreational Trail, and the Lehigh Portland Trails that will be opening this summer. The Complete Streets Policy complements this with a firm commitment to on-street bicycling and pedestrian infrastructure, setting the stage for future improvements to active transportation in Iola.
Thrive's work towards a Complete Streets Policy was an important component of  both our ongoing Kansas Department of Health and Environment 1422 (State and Local Public Health Actions to Prevent Obesity, Diabetes, Heart Disease and Stroke) and Kansas Health Foundation Community Engagement Initiative grants, as well as a crucial policy recommended by national public health, planning, and transportation expert Mark Fenton, who visited Allen County in October 2015 (with funding provided by the Health Care Foundation of Greater Kansas City), evaluated our built environment, and offered suggestions for improving our physical and economic health.