Are Bike Share systems only for big cities, or can they work in rural areas, too? Metro bike shares certainly get all the attention, but the need for bike share in rural locales is in many ways even more acute.
Over the last decade, Allen County has made significant investments in its built environment, including both off-road trails and on-street infrastructure. The immediate goal was to get more people walking and biking, but the longer-term goals were pretty ambitious: to improve our physical and fiscal health though more active lifestyles and the subsequent savings in health care costs and transportation costs, and increased economic activity.
These investments have resulted in Iola being voted the Top Kansas Trail Town by the readers of the Kansas Trail Guide, and the county as a whole annually being one of the top-performing counties in the National Bike Challenge. Locally, we've noticed a lot more people riding bikes, both for recreation and transportation.
But one of the barriers to getting more people on bikes has been a simple lack of access.
That first pedal-stroke, that first bicycle grin, that first taste of freedom and surge of endorphins … those things don't happen without a bicycle to ride. With no bike, individuals miss out on the benefits to their health and finances, and communities miss out on all of the well-documented economic, environmental, and societal windfalls that take place when more people ride bikes more often.
The lack of bikes also prevent our many visitors and tourists from exploring our great trails and low-traffic roads, and truly experiencing the charm and beauty of our communities.
One obvious answer to the problem of access is a bike share program — a way for residents or visitors to borrow a bike, whether for recreation or transportation.
But typical bike share systems are expensive to set up and run. There's the cost of the bikes themselves, docking stations, kiosks, payment systems, and staff. All in all, it can require an up-front investment of $4000-$5000 per bike. That's far beyond the means of a small rural county such as ours. And even if we could secure the capital to launch such a system, our target audience — many of whom live in poverty, with no access to the credit cards or smart phones that are often required — would still be unable to use it. Clearly, we needed another model, one more in character with our communities and needs.
Allen County Bike Share is based on the "bike library" model, where the bicycles are available to "check out" by the public, for free. Our program was inspired by small-scale bike-share programs in Kansas communities such as Greensburg, Abilene, and Manhattan, but builds on the concept in several important ways:
Bikes are provided in a number of different locations throughout the county
Bikes can be checked out for different periods, from minutes to months
Bikes are sourced through, and maintained by, our local bike shop, Velo + Iola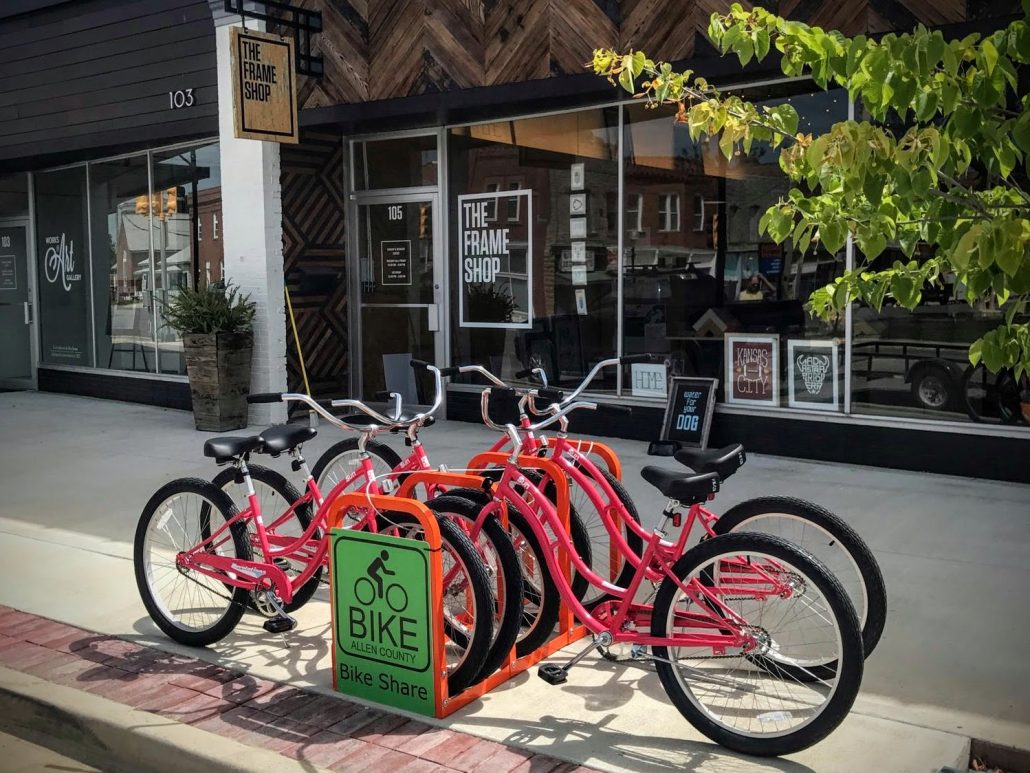 The bicycles used for Allen County Bike Share are single-speed cruiser-style bikes, which are a great fit for the terrain in Allen County, and our network of bike-friendly streets and trails make it easy to get out and explore.
Funding has been provided by a generous grant from Blue Cross Blue Shield of Kansas, which recognizes the important health-related benefits of a bicycle sharing program. It is hoped that this type of bike share can become a model for other rural communities in Kansas, and beyond.
In setting up Allen County Bike Share, the support of our local bike shop has been very important. We've seen it as a way to not only help to support a local business, but to ensure fast and professional service for bicycle assembly and repairs. While the bike shop could have seen a free bike share program as unfair competition, they've chosen to look at it as a business opportunity. "We're not losing customers to bike share," Velo+ co-owner Marco DeAngelis said. "I believe that we are opening up the world of bicycles to people that may not take the chance on buying a bike. This gives us an opportunity to show what a professional bike shop has to offer over the options in town to buy bikes. We are hoping the program will get the community excited about bikes and lead to more and more people locally riding. If and when they decide to start riding, they will know they have a quality shop in town that will help them find the right fit for what they want to do on two wheels."
As of this writing, Allen County Bike Share has been up and running for about three months. A fleet of 20 bicycles are available at four locations, at hours established by each host site (currently: a non-profit, two commercial retail stores, and the local community college). Despite no advertising and minimal publicity, bicycles have so far been checked out over 100 times. Theft and vandalism, always a concern, has so far not been a large issue. The plan is to expand the system to additional locations as funding permits.
"We're thrilled–and shocked, in a good way–by the demand for bike share opportunities throughout Allen County," Thrive Allen County CEO David Toland said. "We didn't know what to expect when we launched the initial pilot of five bikes, but since then we've received more requests for new bike share locations than we can fill at the moment, which is a wonderful problem to have. Blue Cross and Blue Shield of Kansas' Trailblazer program has been very generous in funding this first-of-its-kind system in the state, and we're grateful to BCBS for helping us launch what we hope will become a national model."