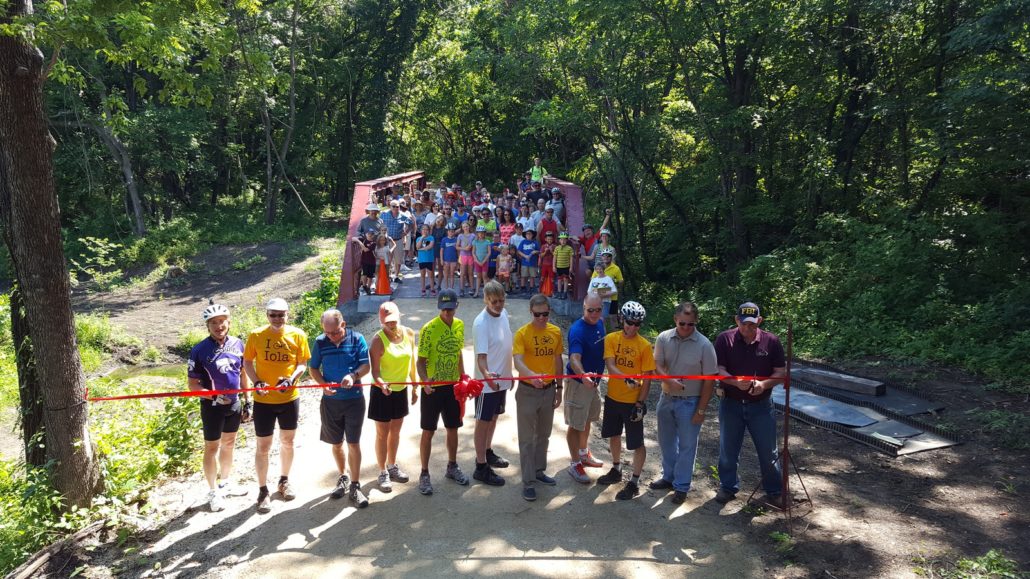 The Lehigh Portland Trails held their grand opening ceremony over the weekend, and are now officially open to the public.
The trails feature over 7 miles of both rail-trail-style gravel-surfaced trails and natural-surface trails for mountain biking, trail running, and nature hikes.
The Lehigh Portland Trails have been built by volunteers with Thrive Allen County, via a June 2014 Healthy Living grant from the Kansas Health Foundation, on land owned by Iola Industries, Inc. through an easement granted to the Sunflower Rail-Trails Conservancy, Inc. The trail's name pays homage to Allen County's industrial past and specifically to the Lehigh Portland Cement Company, which purchased the Iola Portland Cement Company in 1917 and operated a major plant in Iola until 1970.
With the opening of the Lehigh Portland Trails, Allen County has now added over 20 miles of new trails in the last decade. The trail network is not only an important recreational and transportation resource for residents, but positions Allen County as one of the top trail destinations in Kansas. Our unique mix of trails, and a dazzling diversity of terrain and natural environments, makes Allen County an increasingly popular choice for people to visit, and a compelling destination for new businesses and residents who want to live and work in an active and health-conscious community.
Learn more: