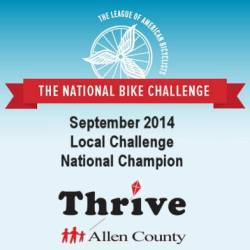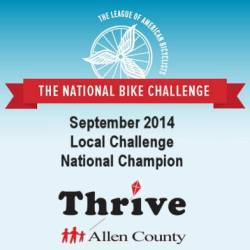 The 2014 National Bike Challenge is now complete, and Allen County went out on top, finishing as the number one Local Challenge for the month of September.
For the entire challenge, we ended up in third place in the nation among 72 local challenges.
Over the course of the summer, the National Bike Challenge brought together 80 Allen County bicyclists, and together we pedaled 32,574 miles.
On the morning of the last day of the month, our local challenge was in second place by just two points. I sent out an email blast to our riders, asking you to finish strong, and WOW did you respond — 874 miles on the final day. We ended up crushing our nearest competition by nearly 100 points. Thank you for that final push!
Here's where we ended up: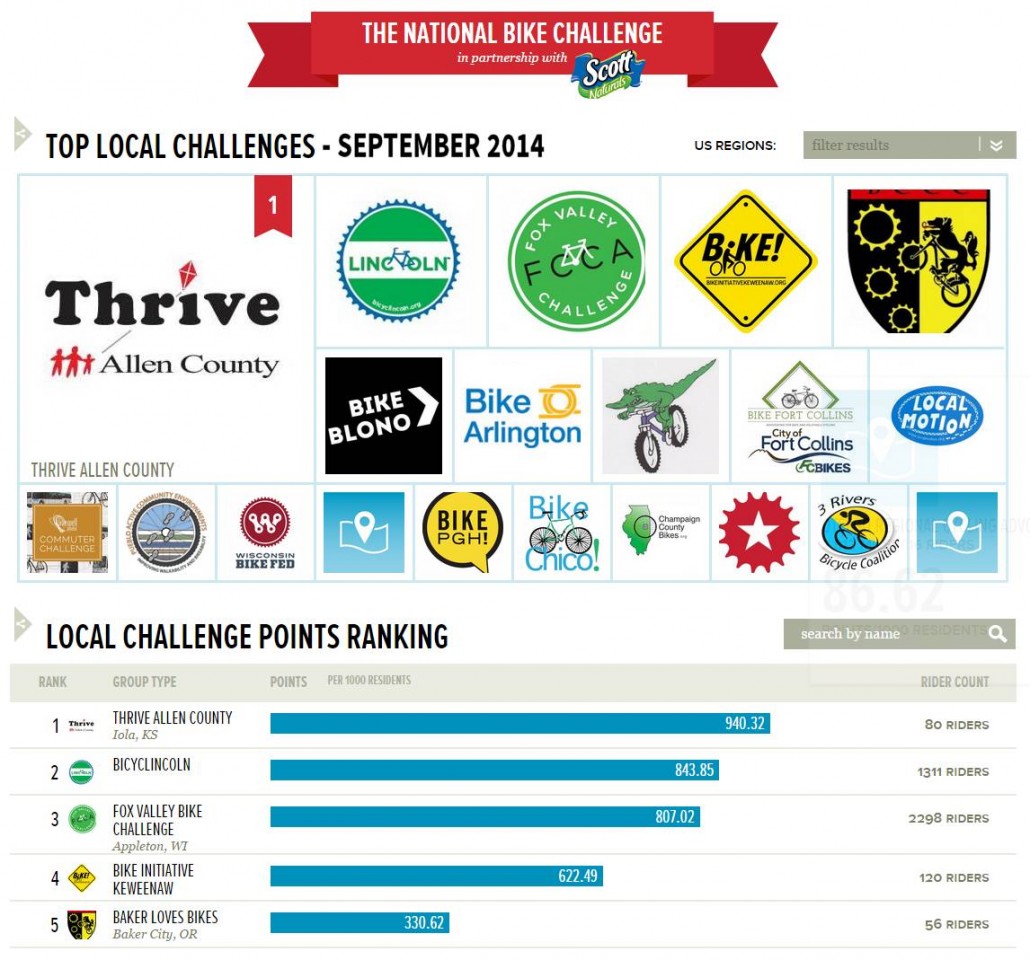 Allen County Cities
Our cities performed extremely well during the National Bike Challenge.
Iola finished number nine in the entire country among cities with population from 5,000 through 50,000 (measured in points per 1000 residents), and number 58 among all cities. In Kansas, Iola was number one in its class. In total, 60 Iola riders logged 22,986 miles.
Humboldt finished at number 88 nationally among all cities, and number 5 in Kansas. 17 Humboldt riders logged 7,509 miles.
La Harpe finished just our of the top 100 nationally, at number 102. In Kansas, it was number 8. La Harpe had 1,965 miles.
Moran had two riders, who together recorded 114 miles.
All told, we had three of the top ten cities in the state.
Top Individual Riders
The top ten Allen County riders were:
Randy Rasa, Iola: 7830 points, 4770 miles
Terry Broyles, Humboldt: 4650 points, 3130 miles
Theresa Berntsen, La Harpe: 3545 points, 1965 miles
Becky Stanley, Humboldt: 3520 points, 2320 miles
Steven Garver, Iola: 3515 points, 1455 miles
Lori Stottlemire, Iola: 3450 points, 2230 miles
Elizabeth Cox, Iola: 2804 points, 1364 miles
Rhi Hess, Iola: 2796 points, 1076 miles
Jay Kretzmeier, Iola: 2155 points, 1175 miles
Lyle Kern, Iola: 2133 points, 373 miles
We also had some of the top-ranked riders in the state, with Randy Rasa #8 among men, and Terry Broyles #6 among women, with Theresa Berntsen, Becky Stanley, Lori Stottlemire, Elizabeth Cox, and Rhi Hess joining her in the Kansas top 20.
County Rankings
Although the National Bike Challenge doesn't officially provide statistics for counties, they can be inferred from city data. Doing so, Allen County ranks number 1 in Kansas by a large margin.
It's interesting to compare ourselves with some of the larger counties in the state.
Though we're only 36th in population, we had almost half as many riders as Sedgwick (167), nearly as many riders (80) as Shawnee (83) and Johnson (82) counties, and far more than Wyandotte, Douglas, Riley, Leavenworth, Butler, Reno, and Saline counties. Among all Kansas counties, we rank 4th in number of participants, and 4th in number of miles.
In the all-important metric of points-per-capita, we rank number one, of course.
Thank You For Participating In The National Bike Challenge
If you were one of the Allen County residents who took part in the Challenge this summer, thank you. We hope you had a great time, and we hope that bicycling has started to become an important part of your daily life.
And with such a successful showing in our very first year, there are high hopes for next year's National Bike Challenge. There's no reason we can't ratchet things up a notch or two — more riders, more miles, a higher participation rate.
So watch for an announcement next Spring!