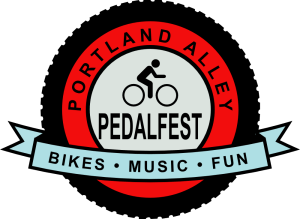 The Portland Alley Pedalfest is an annual bicycling music festival that takes place in Iola, Kansas on the first weekend after Labor Day.
Note: The Portland Alley Pedalfest is on hiatus in 2017; look for its return in coming years!
About The Portland Alley Pedalfest
The Portland Alley Pedalfest is a celebration of bikes, music, food, and fun! It features bike rides and activities for the whole family.
The Portland Alley Pedalfest begins on Friday evening with free camping and a bike-in outdoor movie.
On Saturday, enjoy a full day of bike rides starting at 8am. There are five route options – a 15-mile family ride, 25 miles, 50 miles, 75 miles, and a 100-mile century route – with each route beginning and ending at Riverside Park in Iola. All routes take riders on the Southwind Rail Trail between Iola and Humboldt; longer routes continue through the communities of Petrolia, Chanute, Stark, Savonburg, Elsmore, Moran, Mildred, Kincaid, and Colony, with 100-mile riders finishing up on the Prairie Spirit Trail. There are rest stops with water and food along the routes.
After the Saturday rides, Riverside Park will be the center of activity, with food vendors, a beer garden, and live music and entertainment through the evening hours.
Sunday features self-guided bicycle tours of the surrounding countryside. Route maps will be provided.
Participants may camp at Riverside Park on Friday and Saturday nights, with showers, restrooms, water, and free Wi-Fi provided. Restaurants and shops in Iola will be open, as will local churches for those attending Sunday morning worship services.
The registration fee for the Portland Alley Pedalfest is $45, which includes Saturday rides and Sunday route maps, camping at Riverside Park, access to the music festival, and access to the beer garden, food vendors, and event expo. An event T-shirt is included.
For up-to-date event information, like and follow our Facebook page.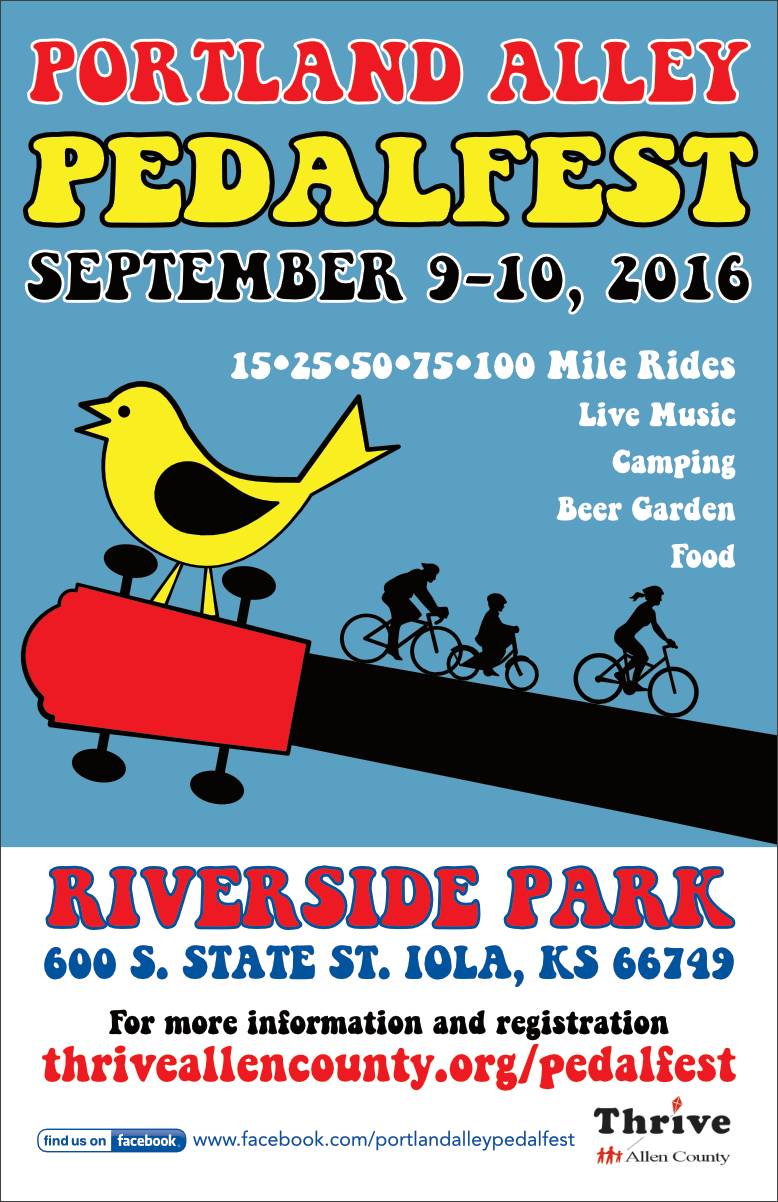 Route Maps
There will also be printed maps and cue sheets available at the event.
GPS Tracks
If you use a GPS cyclocomputer or a smartphone app that can handle GPX files, you can download a GPS Track to your computer, then upload it to your device. Most devices will provide turn-by-turn directions to allow you to easily follow the route without worrying about missing turns or getting lost.
GPS Tracks: Family Fun Ride, 25-Mile Route, 50-Mile Route, 75-Mile Route, 100-Mile Route