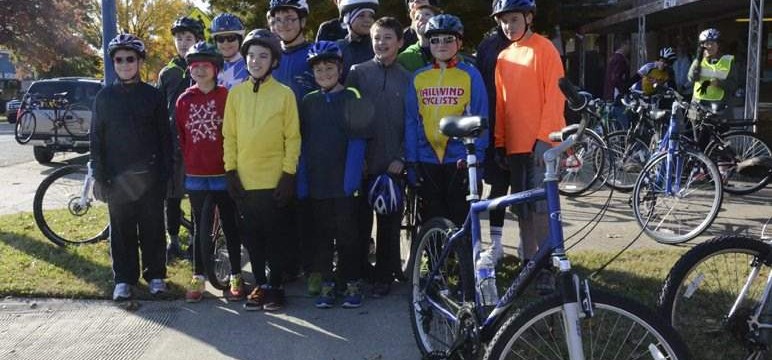 The Thriving Communities Report shares stories from around Kansas about people who are working to help build healthy, vibrant, and thriving communities.
Pittsburg Celebrates Bicycling Boy Scouts
Pittsburg, Kansas — Area boy scouts were honored by Live Well Crawford County, which presented their "Apple Award" to Boy Scout Troop 81 of Pittsburg, Frontenac and Girard, Troop 114 of Fort Scott, and Troop 115 of Pittsburg. During the summer and fall of 2013, the scouts had earned bicycling merit badges by learning about bicycle maintenance and safety, and by completing a series of seven rides, culminating with a 50-mile ride on November 2nd. "We just tell them, 'Thank you for this commitment to better themselves,'" said Joanna Rhodes, one of the members of the committee. "They are an inspiration."
Photo courtesy The Morning Sun
10th Annual Cornstock Festival Planned
Garnett, Kansas — Cornstock, the annual Anderson County Corn Festival, is making plans for the 10th edition of the popular small town festival. Each year the festival attracts over 4,000 visitors to enjoy live music, as well as events and activities such as a craft pavilion, R/C air show, talent show, automobile show, a walk/run, and the Miss and Little Miss Cornstock Pagent. Headline acts for the 2014 edition of the festival will be announced in late January.
Southeast Kansas Education Museum Grand Opening
Oswego, Kansas — The Southeast Kansas Education Museum is holding its Grand Opening celebration on April 1st. The museum will be housed in a renoved WPA-era building that was originally a hospital. and later was used as a college campus. The Mission of the Southeast Kansas Education Museum is to collect, preserve and make available history and artifacts of Southeast Kansas and other countries of the world. The museum aims to provide children a place to learn and be inspired about many topics, while promoting understanding of other ethnic groups, leading to better-informed citizens.
Paola Pathways Progress
Paola, Kansas — The Paola Pathways project made some big progress in 2013. During the summer, the city received a grant from the Sunflower Foundation, which, along with local fundraising, enabled construction to begin on a 3.5-mile crushed limestone trail in Wallace Park, winding through wooded areas along scenic Bull Creek. Paola also installed a new 8-foot wide asphalt trail to provide an off-street connection for pedestrians and cyclists to Lake Miola. The Paola Pathways group is organizing the inaugural event for the new Wallace Park trails, with a 5K run/walk planned for March 29, beginning at 8am.
Kansas Rural Employment Improves
The Daily Yonder, a web site which focuses on rural issues, examined US employment data for the period of October 2012 to October 2013. Although nationwide, rural areas lost 149,000 jobs over that period, Kansas was a bright spot, adding 3,112 jobs in its rural counties, according to the Topeka Capital-Journal. Southeast Kansas performed particularly well, with Allen County adding 171 jobs over that time period, and decreasing the number of unemployed by 71. Our neighbors in Bourbon, Crawford, Neosho, and Coffey counties also posted gains, while Anderson, Linn, Wilson, and Woodson counties suffered moderate job losses. You can explore the data for yourself on a nifty interactive map.
Livability and Health
Access to quality affordable health care is incredibly important, but it's not the only factor in healthy living. In fact, the secret to health isn't health care at all:
Parks, playgrounds, bike paths and supermarkets may not sound like health interventions, but a community's "built environment" can have profound medical consequences. In neighborhoods dominated by liquor stores, fast-food joints, abandoned lots and street gangs, healthy living is an act of willful defiance. Research abounds to show that people make healthier choices when they have better options. The commission urges policymakers to focus on creating communities where the healthy choice is the easy one — places where the flow of daily life keeps people well rather than making them sick.
Photo courtesy MSNBC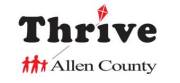 The Thriving Communities Report is a product of Thrive Allen County, which works to improve the quality of life in Allen County by focusing on health, wellness, recreation and education conditions and by engaging people and institutions around a common vision for the future.