The Thriving Communities Report shares stories from around Kansas about people who are working to help build healthy, vibrant, and thriving communities.
Kansas Community Gardens Win Grants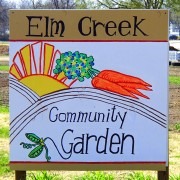 "The Kansas Health Foundation and Kansas State University Research and Extension have awarded almost $123,000 to community garden projects in 26 Kansas communities in both urban and rural areas. The grants, which could total up to $5,000 each, were awarded by the Kansas Community Gardens Program to help start new community gardens across the state. We awarded grants to all different types of gardens. Some are 'allotment' gardens where individuals can rent their own space, some are 'communal' spaces where produce is grown collaboratively and distributed for the good of the community, and some are a combination of both." Read more from FarmProgress.com.
The Elm Creek Community Garden in Iola is one of the pioneering community gardens in the state, serving as a model for other communities. It was organized with help from the Health Care Foundation of Greater Kansas City, and offers more than 100 plots for rent, including plots accessible by disabled gardeners.
The Best (and Worst) States to Eat Local
An organization in Vermont has produced the Locavore Index, a report ranking the states by the availability of local food. Access to local, fresh food is an important factor in both individual health, and the economic health of a community. People who eat food that comes from their local vicinity are, in general, healthier than those who eat foot that's been trucked in from around the county, or even around the world. Likewise, by keeping the food distribution network compact, the local economy is enhanced — more money stays in the local economy, and fewer resources are wasted providing for the transportation, storage, and distribution of food products.
Kansas ranks, according to this report, number 32 in the nation (it was ranked #26 in 2013, and #19 in 2012). The rankings take into account farmer's markets, CSAs (consumer-supported agriculture), Farm-to-School programs, and the number of regional food hubs.
The counties within the states are not ranked, but Allen County would likely have some positive indicators, such as the Allen County Farmer's Market and the Elm Creek Community Garden.
Getting Physically Fit in Downtown St. John
In an effort to promote healthy lifestyles in St. John, a community of 1,300 in central Kansas, Stafford County Economic Development and the Stafford County Healthy Community initiative are teaming up with a local fitness center to offer a four-week "boot camp" training program in the city square park. The group, which is open to all ages and abilities, meets every Monday, Tuesday, Thursday and Friday.
"Our goal is to see Stafford County change it's thinking. We all know if kids seeing their parents or grandparents doing something to change the next generation may continue that lifestyle. If they watch mom and dad doing it then they may start doing it too." [read more]
In Allen County, Adrenaline Performance & Fitness is offering a similar program, a metabolic fitness class, on the courthouse square in Iola.
Hutchinson Bike Station Planned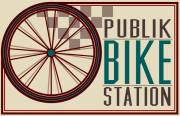 Residents and visitors in Hutchinson, Kansas will soon have another option for getting around town. A "Publik Bike Station" is hoping to open by June, offering "seven to 10 new bicycles available to check out and ride for free, parts available at cost for those needing to repair their own bike and a 24-hour air and tool station".
"We hope to have all things bike. Bike lane maps, bike education and safety pamphlets. We'd like it to be a community center where people can come to meet. This could be a meeting place for kids for programs on bike safety and for programs where they could learn to take care of their bikes."
The space for the bike station was provided by the city and the fire department, and volunteers are providing the labor. The Bike Station anticipates being open on weekends and at least one weekday. "The Bike Station, which is just half a block from the newly marked bike lanes on Avenue A and from George Pyle Park and less than a mile from the Jim Martinez Trail and Carey Park, will be the first of its kind in Kansas."
Learn more from HutchNews.com or the Publik Bike Station on Facebook.
Improving Active Transportation Options in Pittsburg
According to The Morning Sun:
A trail system connecting Pittsburg's parks, schools, business hubs and more is part of the city's long-term plan, and many elements of the system will be coming together throughout the next couple of years.

Currently in the works are plans to expand the Watco Trail, courtesy of a Kansas Department of Transportation matching grant, an application for a grant that would help to build a trail along Rouse south of Via Christi Hospital, plans to re-stripe some of the community's wider roads to create bike lanes throughout town and Safe Routes to School grants that would help with education and infrastructure near two of the community's elementary schools.

Trails are valuable for recreation, but also are critical for those who do rely on walking or riding a bike for transportation. "It's not just a recreational system."
Great to see Pittsburg stepping up and providing ways for the community to recreate and to get around under their own power.
Osage Prairie Tour in Parsons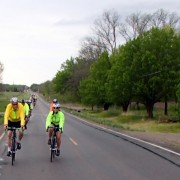 The Parsons Police Officers Association hosted the 17th annual Osage Prairie Bike Tour on April 26th, with nearly a hundred riders coming out to help raise funds for local youth organizations. There was a good contingent of bicyclists from Allen County participating in the event, riding distances from 15 to 70 miles. A cool start under cloudy skies yielded to a beautiful Spring day in Southeast Kansas.
Hope to see more events like this in our area!
Iola Becoming Model For Walkable/Bikeable Community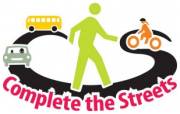 Great Bend, Kansas is a considering a Complete Streets policy, which would make it easier for people to walk or bike in their everyday lives, by designing and building roadways that take into account the safety of everyone — people walking, biking, and driving. In doing so, Great Bend is looking towards Iola as an inspiration:
The model has been used in larger cities like Columbia, Mo., with a larger population and public transit, as well as smaller Kansas cities like Iola and Ottawa, both of which have increased the walkability and bikeability of their cities and have seen an increase in young families choosing to locate there because they like what they see. [read more]
Iola does not yet have an official Complete Streets policy, but with the trail initiatives, upgraded sidewalk system, crosswalk awareness campaign, and new sharrows, Iola has certainly become a more pedestrian-friendly and bicycle-friendly community over the past few years, and people around the country are noticing the improvements.
Looking Ahead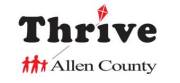 The Thriving Communities Report is a product of Thrive Allen County, which works to improve the quality of life in Allen County by focusing on health, wellness, recreation and education conditions and by engaging people and institutions around a common vision for the future.