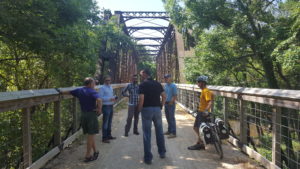 Thrive Allen County has been working statewide to support rural communities and coalitions within the Blue Cross Blue Shield of Kansas Pathways to a Healthy Kansas Grant program.  Thrive was chosen to consult with Pathways grantees based on our growth and knowledge in the core areas of the Pathways program: healthy eating, tobacco cessation and healthy lifestyles.
In the past month, Thrive has worked closely with Live Well Crawford County on the expansion of the Watco Trail that runs out of Pittsburg.  Live Well Crawford County has visited with Thrive staff, Allen County trail enthusiasts, and government officials who were able to discuss funding, obstacles, and the community wins for building our county's well-known trail system: the Southwind Rail Trail, Lehigh Portland Trails, the Mo-Pac Trail and the Prairie Spirit Trail.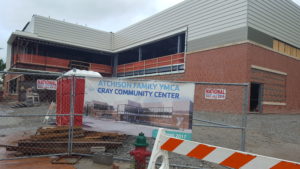 Thrive has also worked closely with Live Well Live Atchison (LWLA) where many exciting health and wellness efforts are underway.   Atchison's YMCA is undergoing an $11 million expansion that was made possible through mostly private donations.  The expansion will grow the YMCA to 30,000 square feet and allow for the gymnasium size to double, an elevated indoor walking track, a therapy pool (in partnership with their local hospital), and an instructional kitchen.  Thrive has worked with LWLA on helping to draft a Complete Streets Policy for their city, imparting knowledge on trail building and bike share start-ups, and with partnering with local restaurants to provide healthy menu options.
Thrive has also worked with The Health for Life Coalition out of Northern Barton County to coach and motivate their coalition as they launch their work.
Thrive looks forward to continued partnerships with Live Well Crawford County and Live Well Live Atchison, as well as building strong relationships with other rural Kansas communities who are fighting to make their hometowns stronger and healthier than yesterday.