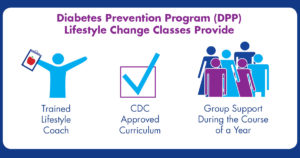 Beginning this summer Thrive is offering a new Diabetes Prevention Program to help residents prevent Type 2 diabetes.  The program is designed to create lasting lifestyle changes in participants.  A lifestyle coach works to educate participants in the skills they need to make lasting changes—losing a modest amount of weight, being more physically active, and managing stress.
Participants learn how to eat and prepare healthy foods, add physical activity to their routine, manage stress, stay motivated, and solve problems that can get in the way of healthy changes. The group meets once a week for 16 weeks, then monthly for 6 months to maintain healthy lifestyle changes. The program's group setting provides a supportive environment with people who are facing similar challenges and trying to make the same changes. Together, participants celebrate their successes and find ways to overcome obstacles.
People with prediabetes — higher-than-normal blood glucose (sugar) levels — are 5 to 15 times more likely to develop type 2 diabetes than those with normal blood glucose levels. Most people with prediabetes will develop type 2 diabetes within 3 years if they do not take steps to prevent it.
People are more likely to have prediabetes and type 2 diabetes if they:
Are 45 years of age or older;
Are overweight;
Have a family history of type 2 diabetes;
Are physically active fewer than three times per week; or
Have been diagnosed with gestational diabetes during pregnancy or gave birth to a baby weighing more than 9 pounds.
DPP is based on research that indicates that people with prediabetes who lost 5 to 7 percent of their body weight (10 to 14 pounds for a 200-pound person) were able to reduce their risk of developing type 2 diabetes by 58 percent.  A few modest changes can make all the difference.
DPP is part of the National Diabetes Prevention Program, led by the Centers for Disease Control and Prevention (CDC). The local program will cost $25 a month for 12 months.  If participants complete the entire 12 months, they will receive $150 back as an incentive to finish the course.  To participate in or learn more about the program, call Kelli Frazell at Thrive Allen County at 620-365-8128 for dates and times available.