Allen County is in the ribbon cutting business lately, and business is good!
Velo +, a bike store with locations in Lenexa, KS and North Kansas City, MO, had its grand opening on April 29, with about 100 people attending in the pouring rain as downtown Iola welcomed its first retail bike store.  A large crowd packed into the bike shop for the ribbon-cutting celebration which featured co-owners Vincent Rodriguez, Marco DeAngelis and facilities manager Paul Ebner.  Thrive's CEO David Toland and Iola City Councilwoman Beverly Franklin also spoke at the event.  DeAngelis expressed happiness with the reception Velo + has had in our community.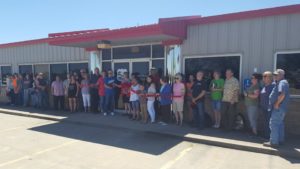 On May 6, Moran cut the ribbon for its new fitness center, aptly named 54 Fitness for its location in an old gas station off of Highway 54.    About 50 residents celebrated the new fitness center, which was a volunteer-run project that will be available to households for $10/month.  The fitness center was made possible by multiple partnerships: a grant from the Healthcare Foundation of Greater Kansas City, countless volunteers, the City of Moran, Moran Pride Thrive, Pete's Corporation (who donated the use of the building), the Kansas Health Foundation and Thrive Allen County.  54 Fitness will officially open its doors to the public on June 1.
On May 20, LaHarpe celebrated the opening of their volunteer-built playground with more than 30 people coming out to play on the new equipment.  The LaHarpe Playground was made possible by partnerships with the Kansas Health Foundation, LaHarpe Pride, the City of LaHarpe, KDHE, Thrive Allen County and Playscapes.   The ribbon cutting was a culmination of a year's worth of work to bring this dream to fruition.
Allen County Regional Hospital cut the ribbon on their Moran Clinic on May 23, filling a need for better access to healthcare on the eastern side of Allen County.  The clinic officially opened to see patients on May 25, and will be open Tuesday and Thursday afternoons.  JoAnna Curl, PA, will be the primary provider at the Moran Clinic.  Allen County Regional Hospital now has three clinics: Iola, Humboldt and Moran.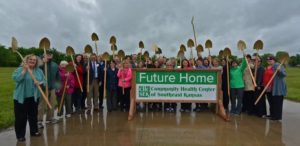 The Community Health Center of Southeast Kansas (CHC/SEK) also had something big to celebrate: May 3 marked the 14th anniversary of the CHC/SEK, and board members, staff and community partners gathered to celebrate the upcoming construction of its new health center at 2051 North State St. in Iola.  "On a day where we look back and remember our past," said Krista Postai, CEO, "We are excited to be here and look ahead to our future."  Final planning and design for the 15,000 sq. ft. facility is currently underway with construction expected to begin this summer and completion estimated for spring 2018.
As you can see, Allen County has so many great things happening!  We look forward to even more ribbon cuttings in the future, continuing to highlight the growth occurring in Allen County.