Re-Imagine Humboldt…
Downtown Summit
Wednesday, March 1, 2017
5:30 P.M.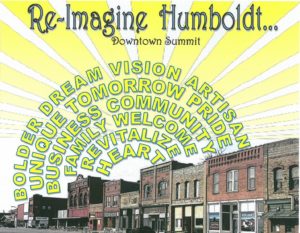 Please join a community-wide discussion about the future of Downtown Humboldt, on Wednesday, March 1, at 5:30 PM at the Room on the Square.
This will be a meeting to discuss the opportunities and challenges for downtown Humboldt and help chart a course for its future.  Re-Imagine Humboldt is for ANYONE concerned about the health of Humboldt's center!
Property owners, business owners, and anyone who is concerned about downtown Humboldt are encouraged to attend.  Aspiring business owners with dreams of opening a business downtown are highly encouraged to attend and participate in the meeting.  We need YOU actively involved in charting a course for the future!
WHO: YOU!
WHAT:  Re-Imagine Humboldt… Downtown Summit
WHEN:  WEDNESDAY, MARCH 1 AT 5:30 (dinner served)
WHERE:  ROOM ON THE SQUARE (806 Bridge Street in Humboldt)
WHY: BECAUSE DOWNTOWN IS THE HEART OF HUMBOLDT
Sponsored by: