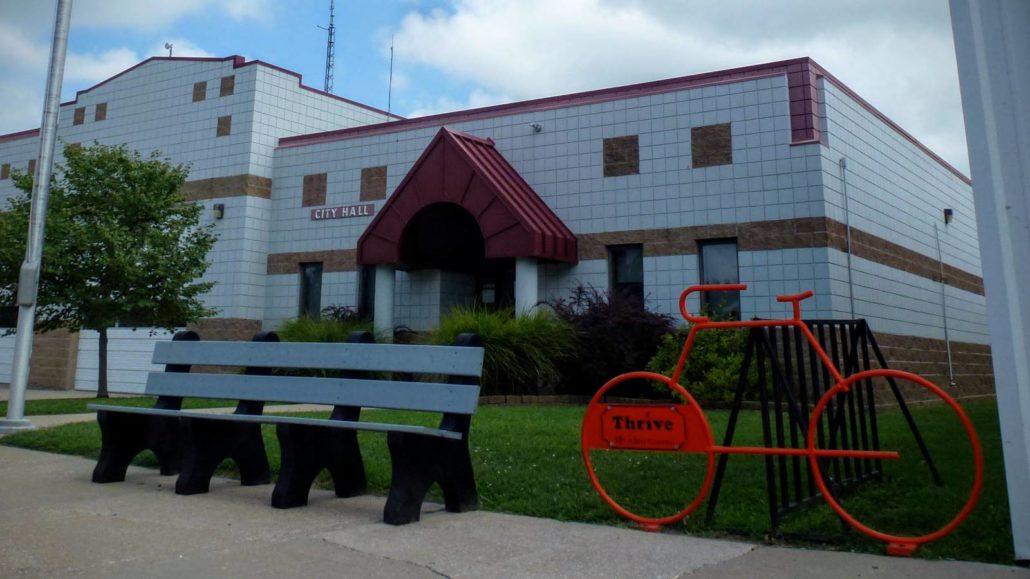 The City of Moran has been awarded a $25,815 grant from the Health Care Foundation of Greater Kansas City to establish the first public exercise center in the community.
The grant funds will allow the City to procure high-quality exercise equipment such as treadmills, stationary bicycles, an elliptical trainer, free weights, as well as an electronic access control system and weigh scale.
There are currently few public exercise opportunities in Moran, other than the city park and school playground, nor are there any private fitness clubs or trails. The serious lack of access to exercise opportunities in Moran is reflected in above-average rates of obesity, physical inactivity, poor health days, and premature death. As a small community, isolated from the majority of the County's exercise facilities in Iola and Humboldt, Moran residents have been a particularly underserved population.
Earlier in the year, the City of Moran distributed a survey with their utility bills, seeking public input on the concept of a Moran Exercise Center. 87% of the respondents indicated a strong interest in a public exercise facility in Moran, motivated by a desire for improved fitness and weight loss, as well for socialization and for injury rehabilitation.
The City is seeking a location for the Moran Exercise Center, with the intention of operating it as a primarily self-served facility, via an electronic access system administered by the City of Moran. In addition to serving Moran residents, the Exercise Center will also serve residents of the surrounding countryside, including the nearby communities of Mildred, Elsmore, Savonburg, and Bronson.
The Moran PRIDE/Thrive Group, a local volunteer group that performs community service projects in Moran, will provide volunteers to help publicize, operate, and maintain the Exercise Center.
Thrive Allen County wrote the grant application for the Moran Exercise Center on behalf of the City, and will provide technical assistance for the project, as well as help to get the word out to local residents about this exiting new public health opportunity.
The Health Care Foundation of Greater Kansas City provides ongoing support that allows Thrive to offer grant-writing services and assistance to communities,organizations, and groups throughout Allen County.
For more information about the Moran Exercise Center, or to volunteer, please contact the City of Moran at 620-237-4271, or Thrive Allen County at 620-365-8128.