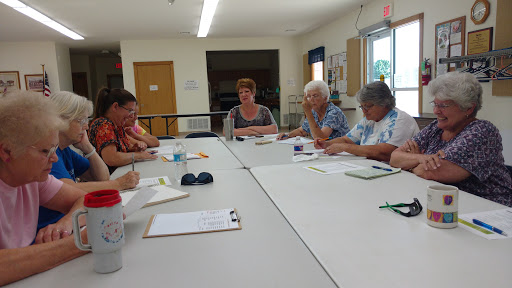 The "Marmaton Market" is the name chosen by Moran area residents who are working to convert the current Stub's Market grocery store into a food cooperative.  This group consists of Moran PRIDE/Thrive members, teachers, business owners, church members, ministers, retirees and students.  The Marmaton Market is also supported by Thrive Allen County and Americorps VISTA.
A co-op is made up of all facets of a community; the people who are steering the course are dedicated to making sure the Moran area continues to have a quality food store.  Maintaining and expanding healthy food access in Moran is not just a sweet idea; it's a necessity.  Transforming this single-owner retail store into a member-owned co-operative means a better chance of long-range success and support for the grocery store.
The current owners of Stub's Market, Dave and Shirlene Mahurin, are eager to sell the store so they can have more free time with their family.  They have served the Moran community for many years and now it's time for them to pass the Stub's Market on to new owners and new ideas.  The community is grateful they are hanging on a while longer so the Marmaton Market group can do the work that needs to be done in order for a co-op to become part of the community.
Food co-ops are autonomous, member-owned grocery stores that follow seven core principles:
Voluntary and open membership.
Democratic member control.
Member economic participation.
Autonomy and independence.
Education, training and information.
Cooperation among cooperatives.
Concern for community.
The great thing about co-ops? YOU become an owner when you purchase a member equity.  Anyone can shop there, regardless of membership, but only members can receive a patronage dividend, vote for the board of directors, or have a voice in what the store offers.
The process of converting from a family-owned retail grocery to a co-op requires time, energy and community support. Like the Marmaton Market Facebook page to keep updated on progress and circle Friday, July 14, on your calendar to come out to the City Park in Moran between 7 and 8:30pm to enjoy their "God, Country and Groceries" event, meet the community members involved and learn more about co-ops and how you can become part of this exciting endeavor for Moran and the surrounding area. For more information, leave a message on the Marmaton Market Facebook page or contact Yvonne Scott at Thrive Allen County: yvonne.scott@thriveallencounty.org.