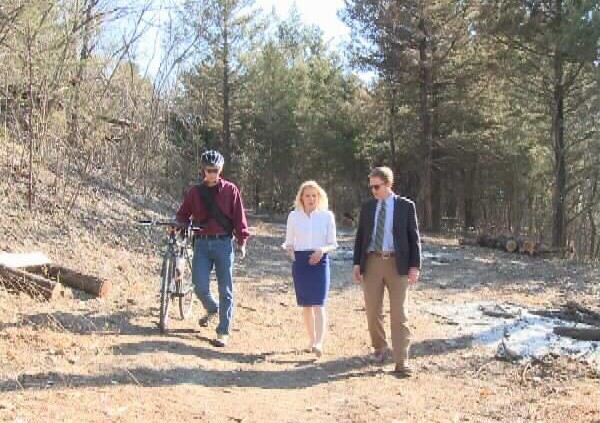 The Lehigh Portland Trail system has been in the news recently, featured in both the Iola Register newspaper and on KOAM television.
Last weekend, volunteers with the Upward Bound program of Neosho County Community College converged on the Lehigh Portland Trails to help clear the trail corridor. Rick Danley of the Register reported:
Soon Iola will be as known for the trails that encircle the town as it is for the courthouse square at its center. And an aerial view of the county — showing the Prairie Spirit Trail dropping in from the north, the Southwind coming up from Humboldt and the Lehigh Trail hugging the quarry lake to the southwest — will be visible proof, in a time when all the talk is of small towns dying, of the local residents who poured their energy and effort into a project in their own backyard.

Last Saturday, Lehigh volunteers received a boost to their efforts in the form of 35 high school students, participants in the Upward Bound program. Upward Bound, a federally funded college-prep program whose local office is on the campus of Neosho County Community College, serves needs-based students in Iola, Humboldt, Erie and Chanute.
Read more: Upward Bound Volunteers Help Clear the Lehigh Portland Trails
Through the efforts of local volunteers, who have been working tirelessly throughout the fall and winter months, as well as special groups such as Upward Bound, tremendous progress have been made on the new trail system. Several miles of trail have been cleared so far, some of it singletrack trail for hiking, trail running, and mountain biking, and some of it a wide corridor that will be covered in crushed limestone to create a smooth walking and riding surface.
A few days later, KOAM TV 7 reporter Stacey Lindsay visited Iola to do a story, interviewing Thrive Allen County Executive Director David Toland and volunteer Randy Rasa, and helping to share the trail progress with her regional audience:
"This is a breathtaking piece of land. Part of our strategy here is to encourage people to get out and be active by using the natural assets that are around us."

The trails will span approximately 10 miles, of which 8 miles will be single track trails. And then there will be an extra wide two mile trail that will covered in crushed limestone.

"It will be available to everybody from people in wheelchairs to folks who want to run or walk or bike," said Toland.

Volunteers from various counties have been coming out to help clear the path. Rasa says he hopes to see more.

"Once they see this land and what we're building, they're going to feel a part of it."

The goal is to have the main portion of the trails completed by the summer. Some of the single track trails are completed and are already being enjoyed.
Read more: Lehigh Portland Trails Featured on KOAM Television
With nearly 50 volunteers on hand at the most recent workday, and with the Iola Register and KOAM helping to spread the work, the trail project has a great deal of momentum, and excitement is building.
If you'd like to join in on the fun, workdays are being help most weekends, and help is always needed. Watch the Lehigh Portland Trails web site, Facebook page, and Twitter feed for details, or contact Damaris Kunkler, Thrive's Program Director, at (620) 365-8128 or damaris.kunkler@thriveallencounty.org to get involved.