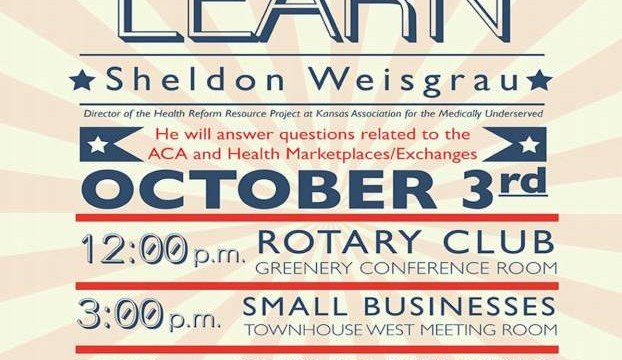 At an event scheduled for October 3, 2013 in Iola, Sheldon Weisgrau, director of the Health Reform Resource Project, will discuss health care, health insurance and why health reform is an important public policy issue.
Mr. Weisgrau will talk about the ACA (Affordable Care Act), how it may (or may not) address problems in the health system and the impact of the law on consumers, health care providers and other stakeholders.
There are three sessions offered:
12pm — Rotary Club — Greenery Conference Room
3pm — Small Businesses — Townhouse West Meeting Room
7pm — Public Meeting — Townhouse West Meeting Room
All meetings are free and open to the public.
After attending any of these sessions, people should have a much clearer picture of what's in the law, how it affects them and their community and what we can expect in the coming months and years.
The Health Reform Resource Project is a foundation-funded initiative to provide education and technical assistance to consumers and other stakeholders in the implementation of health reform and the Affordable Care Act in Kansas.
Mr. Weisgrau's visit is sponsored in part by the Iola Chamber of Commerce and Office of Tourism, and the Allen County Rural Health Initiative funded by REACH Healthcare Foundation.