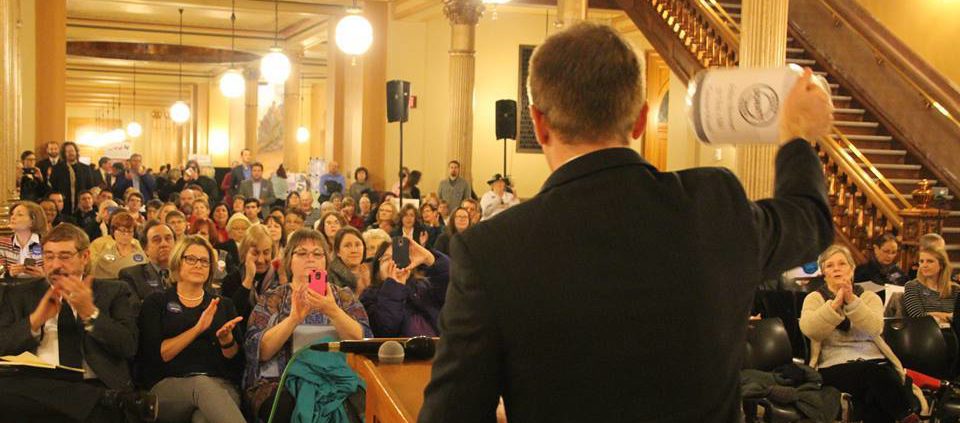 Thrive Allen County has been a leader in working to bring down the uninsured rate in our area. In 2013, Allen County's uninsured rate stood at 21% — over one in five county residents lacked health insurance coverage.
By 2016, the uninsured rate had dropped to 10%, a better than 50% improvement, and among the biggest drops in Kansas.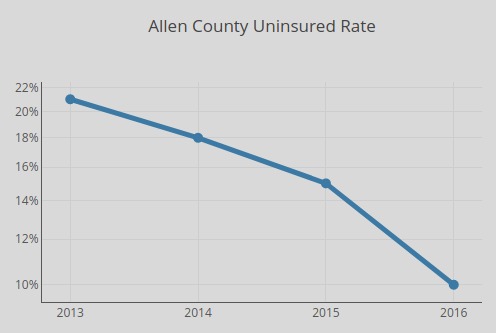 With the support of funders such as REACH, the Health Care Foundation of Greater Kansas City, and KAMU (Kansas Association for the Medically Underserved), Thrive has aggressively worked to help people gain access to affordable health insurance coverage. Over four Open Enrollment cycles, our Navigators have consulted with more than 1,000 people. We've answered consumer questions, presented their health insurance options, helped them apply for coverage, and helped them select the most appropriate plan for their individual situations. We've also consulted with local small business owners, to help them understand their options and opportunities.
In 2016, Thrive expanded our outreach to include consumers in neighboring Anderson and Woodson counties. Through this work, we've helped to reduce the uninsured rate in those counties as well.
For the 2017 open enrollment period, we're expanding our support yet again, with plans to hire additional Navigators.
Thrive Allen County Navigator Statistics

| Enrollment Period | Consultations | Consumers Enrolled | Medicaid Gap |
| --- | --- | --- | --- |
| 2013-14 | 185 | 141 | 47 |
| 2014-15 | 256 | 159 | 44 |
| 2015-16 | 414 | 228 | 95 |
| 2016-17 (Year to date) | 363 | 182 | 37 |
As encouraged as we've been with getting more people enrolled in health insurance, there have also been some profound disappointments.
Since Kansas is one of the states that has refused to expand Medicaid (known in Kansas as "KanCare"), a disturbing number of people (nearly one in five!) fall into the coverage gap — their income is too low to qualify for coverage through the Exchange, yet they don't meet the highly restrictive qualifications for coverage through KanCare.
On behalf of people such as this, as well as rural healthcare providers who are struggling to survive, Thrive has actively advocated for Medicaid expansion in Kansas. Working with the Alliance for a Healthy Kansas — a coalition of citizens, business leaders, doctors and hospitals, social service and safety net organizations, faith communities, chambers of commerce, and advocates for health care consumers — Thrive has devoted a great deal of time and effort to the struggle. Thrive staff, board members, volunteers, and community members have spoken at expansion rallies, provided written and verbal testimony to legislative committees, lobbied legislators, and worked with health care providers to advocate for expansion.
Another aspect of improving healthcare access in Allen County has been Thrive's focus on recruiting new doctors, dentists, and healthcare professionals. In recent years, a number of new providers have come to Allen County, attracted by the new Allen County Regional Hospital, the warm welcome of the health care community, and Allen County's commitment to improved quality of life, as evidenced by projects such as our growing trail network, the Happy Tails Dog Park, and the Allen County GROW Food and Farm Council.
.