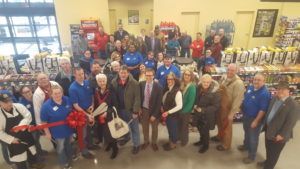 Since 2009 when Country Mart closed, the top priority of many Allen Countians has been having a standalone grocery store in Iola.  Thrive began recruiting a store in 2012, and we're thrilled to report that G & W Foods opened their doors in the heart of Iola on the old hospital development site on January 5th!
Prior to its opening, Senator Jerry Moran visited G & W Foods to see the final product. Senator Moran was very enthusiastic about the store, praising the new business that has already hired 50 new employees with the hope to grow that number to 75 in the future.  "It's a reminder of how important such a store is," he said. "For many, it's a determining factor of where they choose to live."
The official ribbon cutting for G & W Foods occurred on January 17.  Community officials, supporters of the store, and employees were present to celebrate this achievement.  Chris O'Hara, G & W Foods COO, thanked the community for their support, asked for honest feedback–good and bad–to be shared with G & W staff, and shared everyone's enthusiasm for the opening of the store.  O'Hara also reminded the crowd that G & W Foods has a program that benefits USD 257.  For every receipt that is turned in to G & W Foods, 1% of the sales receipt goes back to the school district.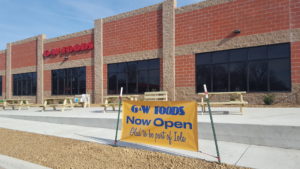 If you have not yet done so, we encourage you to stop into Allen County's newest grocery store.  Walk the aisles,take in the local touches (each aisle is named after a local street, the pictures around the store are all of Iola at different points in our history, etc.), and get a free piece of fruit for your children to eat as they shop with you pushing their very own kid-sized cart.
Welcome to Allen County, G & W Foods!