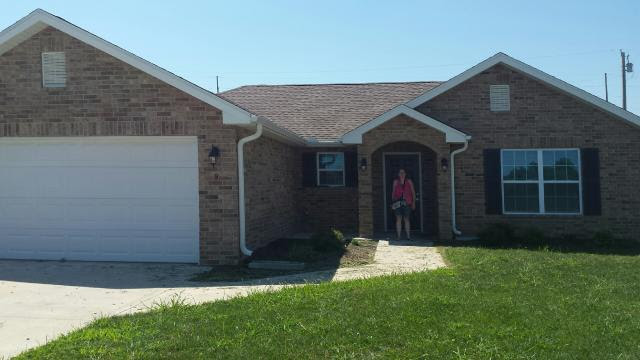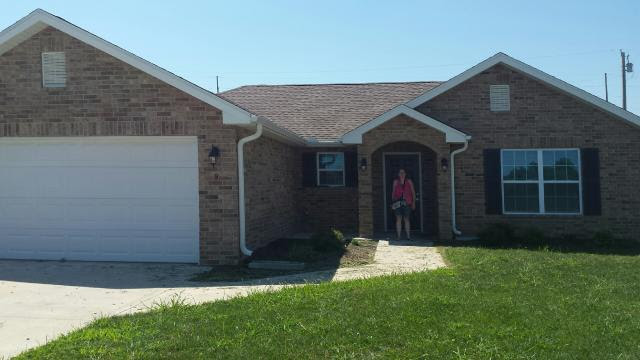 Toni and Robert Dryden are happily at home after a long summer of eviction notices, codes enforcement, and paperwork. The city of LaHarpe, in a resident-led process facilitated by Damaris Kunkler, Program Director, identified unsafe housing as a pressing threat to public safety, but Kunkler wanted to be sure that the changes were positive for both the community and for the Drydens.
Living conditions in the house hurt both the Drydens' health and family relationships; their grandchildren had been unable to visit in years due to unsafe conditions. Despite holes in the roof and other problems, however, the Drydens were reluctant to leave the place they had carefully made into their home.
After the Drydens agreed to move, Thrive staff realized that this was far from a simple task; with very low income, no identification, and even a criminal record from a few decades back, the Drydens faced serious obstacles to finding housing. Thrive staff member, Damaris Kunkler and Georgia Masterson, Connector's volunteer, set an appointment to fill out paperwork online for Tenant Based Rental Assistance, through Southeast Kansas Community Action Partnership, hoping that the family would qualify for new development in Iola that was income-based. For example, a family of two cannot make over $27,000. Her husband had no identification. We got her husband back on the grid. He was also a felon from 30 years ago. To complete an application, provided some legal documentation. We began her paperwork in June, and her first night in her house was in September.
In the end, quality housing was found. Connectors led us in being proactive and getting her husband's social security complete 90 days before his 65th birthday to secure steady income. The process was a learning experience for everybody. In the future, the hope will be to create a systems change within our townships that are responsible for condemnations of homes that are resided in. That change is that the Connectors resource guide is used by the councils to help guide that resident in crisis to the resources that are available in the community.
The Community Engagement Initiative, a Thrive program working across the county, worked with LaHarpe residents to identify ways to improve their community, and it was clear that debris-filled yards and unsafe housing were at the top of LaHarpe's list.
Kansas Health Foundation awarded Thrive with a multi-year grant called the Community Engagement Initiative. This grant is unique in that it is a resident-led grant, the first of its kind for the agency. After coordinating a county-wide community conversation which 160 residents attended, they identified 52 priorities; based on the question of what would make Allen County a healthier place to live work and play. After deliberation and editing, the final 6 priorities were determined and a community action plan was created. This plan is to be followed from 2015-2018. Toni's circumstance fell under Priority 2- Public Safety.
A huge thank you goes to our funders that have given continued support on education of health disparities and Connectors.