Nominations are now open for the 2016 Thrive Awards, recognizing organizations and individuals doing exceptional things in our community!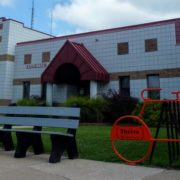 The City of Moran has been awarded a grant from the Health Care Foundation of Greater Kansas City to establish the first public exercise center in the community.
About Thrive
Thrive's mission is to support and encourage programs, policies and resources that promote access to healthcare, healthy lifestyles, and positive community conversation that improves the well-being of residents of Allen County, Kansas.
Thrive Allen County
9 South Jefferson Avenue
Iola, KS 66749
Phone: 620-365-8128
FAX: 620-365-0007