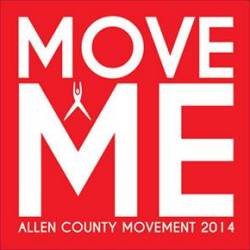 The following are the official 2014 rules for The Movement Allen County:
It's about Movement. Movement to be more physical. Movement to eat more healthy foods. Movement to inspire others to join.
Rule One: TEAM
Each team will consist of 1-however many members. Teams with one member are allowed. Each team needs to select a team name. There will be no switching of teams but teams can continue to add members throughout The MoveMEnt. A participant may not join more than one team.
Rule Two: AGE
Participants must be at least 18 years old. Those under the age of 18 may participate if they provide a doctor's note and written parental consent at time of registration.
Rule Three: DRESS
Please wear clothing that will be comfortable for being weighed at weigh-in and out. Pants, skirts, shirts, undergarments and sock are allowed. No shoes, coats, pocket change, or bullet proof vests allowed. We want accuracy.
Rule Four: WEIGH-IN AND WEIGH-OUT
Weight will be taken at time of registration at Moran City Hall, Terry's Flower Shop in Humboldt, and Thrive Allen County office in Iola beginning 4/28. Weigh-out will be available at all the same locations on June 27th during business hours. For those of you tracking weight loss, there will be a scale at your weigh-in and out locations for you to use anytime.
Rule Five: INCENTIVES
Incentive tickets will be given at each official MoveMEnt class that is posted on your MoveMEnt Calendar of Events and every Wednesday for the WEAR IT…WALK IT…WEDNESDAYS!!! These tickets will be gathered in your community for a drawing on July 7th for prizes for participation. The more participation by you, the more chances you have to win a raffle drawing.
WEAR IT…WALK IT…WEDNESDAYS… We will be out on Wednesdays awarding incentive tickets to The MoveMEnt participants wearing their official Move Me 2014 t-shirts. Also, any individuals that post pictures of themselves on The Movement Allen County FB page on a WEAR IT…WALK IT…WEDNESDAY sporting their official MoveMEnt t-shirt will also receive an incentive ticket. Please post your name with your picture so we know who to enter. Additional incentive tickets may be awarded throughout the program at the discretion of the Program Director to encourage participation and team spirit. Check the The Movement Allen County FB page for fun and random shout outs.
Rule Six: REGISTRATION
We will begin registration on 4/28 and continue to accept new registrations throughout the program from start to finish to encourage as much of our county to Join The Movement as possible. After May 9th registration will only be accepted at the Thrive Allen Count office in Iola.
Rule Seven:
Post on The movement Allen County page each week your weight loss and/or your minutes of activity. We are tracking these two YOU DO NOT HAVE TO POST YOUR ACTUAL WEIGHT! JUST THE POUNDS LOST EACH WEEK!
See Also: