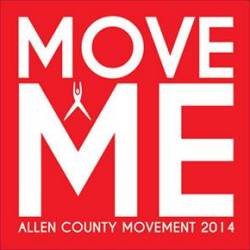 The following is the calendar of events for the 2014 The Movement Allen County:
It's about Movement. Movement to be more physical. Movement to eat more healthy foods. Movement to inspire others to join.
Monday
9am- Seniorcize- Low impact aerobics and stretching. Open to all ages. (class leader Charlene Levins)
3:30- Cedarbrook Fitness Center. Donated time from Cedarbrook, full use of gym for up to 10 people. (class leader Delia Sanchez)
5:30pm- Hike and Bike- Meet at the Southwind Rail Trail by the skatepark at Riverside park to hike or bike. (class leaders Cindy Anderson and Liz Cox)
Tuesday
5:30pm- Yoga Ninjas- Little Theatre at the Iola Rec Building, Riverside Park. Join together of mind and body to increase self-awareness. Stretching, breathing, core strengthening, and light cardio. (class leader Tracy Keagle)
5:30pm- Pickleball- Meadowbrook Park. Fastest growing sport in the nation. Blend tennis, ping pong, badminton, laughter, and low impact. Equipment provided. (class leader Lyle Kern)
Wednesday
9am- Seniorcize
12pm- Wear it Walk it Wednesday- Meet at Thrive for @ mile walk around the downtown square. WEAR YOUR MOVEMENT SHIRTS! Take a selfie and post on The Movement AllenCounty Facebook page for an extra incentive ticket for a raffle!
3:30pm- Cedarbrook Fitness Center
5:30pm- Pickleball
6:30pm- Abs and Assets- Rec Building Riverside Park. Toning trouble areas on the lower body with an emphasis on core stability. Positions include standing, kneeling, and laying down. Yoga mats, towels, or blanket for floor work. (class leader Kari Lyphout)
8pm- Run For Fun- Iola Track- Beginner runners. Stretching and learning just how to run for fun. Not necessarily training for a 5K. (class leader Don Burns)
Thursday
5:30pm- Yoga Ninjas- Little Theatre Rec BLDG
7pm- Bike Ride- Cofachique Park
Friday
9am- Seniorcize
5pm- Hike the Southwind Rail Trail – skatepark at Riverside Park (class leader Jessica McGinnis)
Monday
5:30pm- Roll with it- Bring your bike and meet at the Humboldt town square to head to the scenic Southwind Rail Trail (class leader Joann Evans and Pat Haire)
Wednesday
6pm- Cardio & Weights- Field House (class leader Terry Butts)
Thursday
6:30pm- PiYo- Lutheran Church- Low impact workout blending pilates/yoga/cardio. (class leader Hazel Ebberts)
Wednesday
6:30pm-Wear it Walk it Wednesday!- Moran Track (class leader Doris Decker) Wear your Movement shirts, take a selfie and post it on The Movement Allen County facebook page for an extra incentive ticket for a raffle!
See Also: