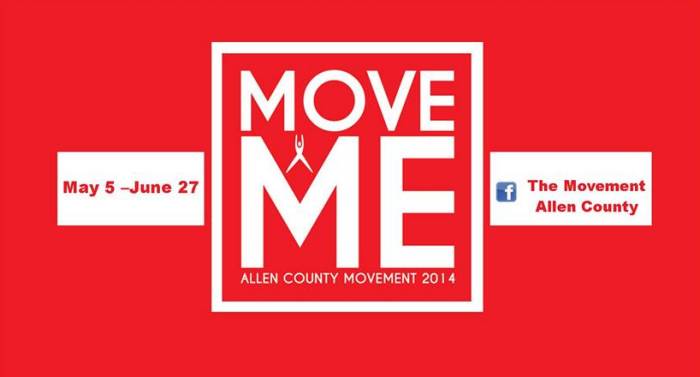 It's about Movement. Movement to be more physical. Movement to eat more healthy foods. Movement to inspire others to join.
2014 Dates: May 5th- June 27th
Thrive Allen County is sponsoring a county-wide eight week healthy living initiative. Initially, this was called The Meltdown, and was very successful and popular in our county. Many of our participants have gone through this five times now. We will focus on physical activity and nutritional classes to educate and motivate individuals in the community to eat better and create more movement in their lives. The name change to The Movement comes from the need to continue the momentum repeat individuals have contributed to make this a success. We are hoping to encourage more people to join "the movement" that many of our Allen County residents have already committed to and that is a healthier lifestyle.
Through the previous five years, we have had 1086 registrants and have reported an average of a little over 1900 pounds lost each year. We have taken our male participation rate from 12% to 22%. We had volunteer instructors in Iola, Moran, Elsmore, Humboldt, and LaHarpe for easy access to physical activity classes and healthy nutrition classes.
For 2014 we will be adding interactive, loads-of-fun, hands-on super-healthy cooking classes. We will be setting up a kitchen at different locations so each community in Allen County will have chance to participate in the live cooking demonstrations. You will cook and you will eat!
We also be working on a TEAM concept, although individuals may work independently also. With a team we believe that it will encourage new friendships, support, add a level of competitiveness, keep each other motivated and allow for you to always have a person to participate in classes with.
We have partnered with many businesses around the county that have workplace wellness policies already in effect with a great response. Through conversations with the businesses we realized that there is a strong bond between staff members and that sometimes they can be the biggest support system for someone trying to become more healthy. Staff spends approximately 40 hours a week together; sometimes more than with their family and friends. So, in taking this into consideration, we went to the businesses and made the ask to sponsor their staff with a positive response. Moran Manor, Community National Bank, CLO, and Gates all sponsored. We will continue to recruit from a Workplace Wellness standpoint in trying to gather more participants and businesses registering.
The cost for registration for The MoveMEnt is $12. This will get you an informational folder, tshirt, and access to all Movement activities and Interactive cooking classes! Come by the Thrive office (12 West Jackson in Iola) or call us at 620-365-8128 to get enrolled.
See Also: