Thrive helps to encourage, develop, and recruit businesses that improve the vitality and resilience of the Allen County economy.
About Allen County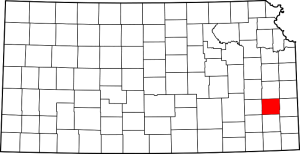 Allen County, Kansas was founded in 1855, one of the 33 counties established by the first territorial legislature. It was named in honor of William Allen, United States senator from Ohio.
Allen County is located in southeastern Kansas, two counties west of the Missouri state line and three counties north of the Oklahoma state line. It is twenty-one miles from north to south and twenty-four miles from east to west, covering about 505 square miles. The county seat is Iola.
The neighboring counties are Anderson (north), Linn (northeast), Bourbon (east), Crawford (southeast), Neosho (south), Wilson (southwest), Woodson (west), and Coffey (northwest).
Supporting Existing Businesses
Economic and job growth take many forms. Existing businesses, large and small, are essential to that growth.  The vast majority of new jobs in Allen County are created by the businesses already located here.  Thrive and government and private partners are committed to supporting the growth and well-being of Allen County's existing businesses.  Our services range from helping businesses grow and expand to helping them overcome the hurdles that interfere with their day-to-day operations.  Most of this work happens right here, but we also work hard to connect businesses to our partners at the regional and state level, including the Kansas Small Business Development Center and the Kansas Department of Commerce.
At Thrive, we assist local businesses with incentives, programs, tax credits, land/buildings, and local business climate issues, among other services. If you don't know how to get started, or for more information, contact David Toland, Executive Director of Thrive, at david.toland@thriveallencounty.org or 620.365.8128.
Business Site Selection
Thrive offers seamless, one-stop service for businesses and consultants seeking sites.  For assistance in site selection or to receive a customized proposal tailor-made to your specific expansion or relocation project, please contact us at david.toland@thriveallencounty.org or 620.365.8128.
The Allen County Difference
Unlike most rural communities, Allen County, Kansas has decided it will grow and thrive. We have rejected complacency, and taken the steps necessary to be the type of community where businesses and residents WANT to be.
Just look at the facts.
After decades of decline the county's population has leveled off and is beginning to climb.
Nearly 100 new homes have been built in the past 3 years in Iola, the county seat.
A $30 million new critical access hospital opened in 2013.
The county's health ranking has improved an incredible 15 points in 4 years, exceeding even the aggressive goals the community set for itself.
And nationally and internationally-recognized businesses like B&W Trailer Hitches, Gates Corporation, Herff Jones, Monarch Cement and Russell Stover Candies have all significantly expanded their production here in the past five years.
We want your business, and we're willing to do what it takes to get deals done. There is strong cooperation between local governments and industry, creating one of the most business-friendly environments in the Midwest. Low operating costs and a smart, hardworking pool of workers combined with Allen County's central location and easy access to Kansas City, Wichita, Joplin and Tulsa makes Allen County one of those rare places that both makes good business sense and just feels right. Come see for yourself what Allen County's pro-business spirit can mean for your business.
Available Sites & Buildings
Allen County's business and industrial sites/buildings are kept in the LOIS database. We encourage you to visit each this site to get an accurate representation of our market. In addition we have available data from the City of Iola about industrial locations and from Iola Industries. To discuss sites or for related inquiries, please click here.
Incentives
New and expanding companies locating in Allen County may take advantage of a number of incentives, many of which can be tailored to meet the specific needs of a particular business.  Most of the incentives vary based on a company's financial investment and the number of new jobs.  The state of Kansas also has one of the most business-friendly economic climates in the nation.
Please contact us to request a customized incentive package for your project or click the links below for more detailed information.
Target Industries
Across Allen County a wide range of businesses, new and old, are driving promise for the future.  Our strengths and interests range from manufacturing and distribution to filmmaking and supporting internet-based startups. Each community has different interests and locations. For information regarding target industries, please click here (link to email form going to info@thriveallencounty.org).
Workforce
A highly motivated, well-trained workforce is critical to economic growth and prosperity and to overall quality of life. Please click the links below for information about various aspects of our labor market:
Labor Force Employment (give 2004-2013—need to create table)
Average Wages By Sector (census?)
Labor Market Characteristics (need to create something talking about union membership…er, lack thereof)
Allen County Communities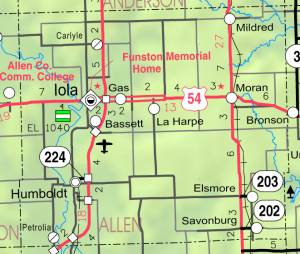 The incorporated cities in Allen County are:
There are also several unincorporated communities in Allen County:
Click names to see profiles for each community.
---
See Also