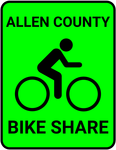 Allen County Bike Share is a free program that allows people to borrow bikes to explore the streets and trails of our communities. Unlike commercial bike share systems in large cities, which require a large up-front investment in GPS-enabled bikes, docking stations, and payment systems, our bike share uses a simpler model that features sturdy single-speed cruiser bicycles, and a user-friendly way to check out bikes. To take a bike out for a spin, all you need to do is provide a picture ID, and sign a Waiver Form.
Allen County Bike Share bikes are available from the following locations:
Users must be 12 years of age or older. Bikes may be checked out by both residents and visitors.
The bicycles were sourced through, and are maintained by, our local bike shop, Velo + Iola, through generous funding from Blue Cross Blue Shield of Kansas.