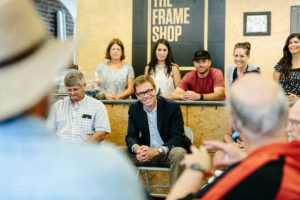 Sometimes advocacy happens in private meeting with community leaders, while other times it is very public. We're not afraid to stand up and stand out, to say what needs to be said.
Hand-in-hand with advocacy, helping to shape public policy is a critical part of what we do as an organization. This may involve suggesting changes to existing policies and procedures, or it may be helping to create new policies from scratch.
Here are a few of the many issues where we've taken leadership roles:
KanCare Expansion — Thrive has worked with Alliance for a Healthy Kansas to advocate for Medicaid expansion in Kansas, with the goal of improving Kansans access to healthcare. Thrive staff, board members, volunteers, and community members have spoken at expansion rallies, provided written and verbal testimony to legislative committees, lobbied legislators, and worked with health care providers to advocate for expansion.
Tobacco 21 Policy — In 2016, Iola became only the third city in Kansas to enact a policy preventing people under age 21 from purchasing all tobacco products, with the aim of avoiding this expensive and debilitating addiction.
Complete Streets Policy — In 2016, Iola became the ninth Kansas community to adopt Complete Streets provisions, which commits the city to improving active transportation infrastructure. Iola is by far the smallest and most rural community in the state to adopt Complete Streets, setting a new standard for progressive transportation policy in small-town Kansas.
Food and Farm Council — The Allen County GROW (Growing Rural Opportunities Works) Food and Farm Council works to establish policies and behaviors that increase access to affordable, nutritious and safe food for Allen County residents. The council was established by an Allen County Commissioners' resolution in August 2014.
 Come Play Outside Open Use Agreements — Thrive has worked with school districts throughout Allen County to promote and encourage use of school facilities like gymnasiums and playgrounds by the community as a whole when they're not in active use for school purposes.
Tobacco Free Outdoor Areas — Thrive has secured passage of tobacco restrictions on parks and trails in the cities of Humboldt and Iola.
Cold Weather Rule — Thrive joined other members of the Allen County Rural Health Initiative in successfully pushing for a "cold weather rule" to prevent utility shutoffs when temperatures drop below freezing.
Food system incentives — Thrive led the effort to secure nearly $400,000 in public incentives needed for the construction of a new G&W Foods Supermarket on the former Allen County Hospital site in downtown Iola.  This project will result in one of the only new supermarkets being constructed in a USDA-designated "food desert" nationally, and will bring 40 new jobs, plus sales tax revenues to Allen County.