David C. Toland, CEO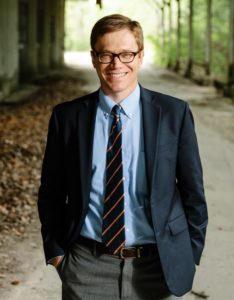 David Toland is the first CEO of Thrive Allen County, a nonprofit coalition that works to improve quality of life and economic conditions in Allen County, Kansas.  A seventh-generation Allen Countian, Toland oversees a coalition known regionally, statewide and nationally for its innovative approaches to improving healthcare access, healthy lifestyles and economic development in a small, rural Kansas county.  As Thrive CEO Toland has overseen the organization's development from a loose-knit coalition based in Iola to a strong countywide organization that has been instrumental in the development of 20 miles of new trails; voter approval of a new critical access hospital; passage of the third Tobacco 21 ordinance in Kansas and the 9th Complete Streets ordinance in the state; the opening of a new federally-qualified health center (FQHC); and the ongoing redevelopment of the former Allen County Hospital site into a new retail and apartment neighborhood.  Under Toland's leadership Allen County was also selected as a 2017 Robert Wood Johnson Foundation Culture of Health Prize winner.
Prior to returning to his hometown of Iola Toland worked for six years as an appointee of Washington, DC Mayor Anthony A. Williams.  During his time in the District Toland held a variety of positions, including Deputy Chief Operating Officer in the Office of the Deputy Mayor for Planning and Economic Development, where he oversaw for the Deputy Mayor the day-to-day activities of nine city departments.  Toland was later appointed as Chief of Staff in the Office of Planning, where he successfully led the legislative effort to obtain city council approval of the 2006 overhaul of the city's controversial Comprehensive Plan.  Prior to coming to Washington Toland worked for the city managers of Reno, Nevada and Bonner Springs, Kansas.
Contact: david.toland@thriveallencounty.org
Damaris Kunkler, Community Engagement Director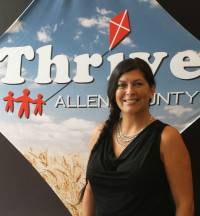 Damaris Kunkler is the Community Engagement Director of Thrive Allen County. Kunkler's work focuses on resident-led initiatives determined through community conversations focusing on what makes a community a healthier place to live, work, play and pray. These conversations have resulted in Priorities in Employment and Business Development, Public Safety, Safe and Clean Green Spaces, Complete Streets, Opportunities for Physical Activity and Student Achievement supporting Policy, and Systems and Environmental changes. She also leads volunteer recruitment and event coordinating for Thrive.
Prior to returning to Allen County she was an Oklahoma University Psychology major and worked as a Volunteer, Donations, and Event Coordinator for a Transitional Homeless shelter non-profit in Norman, Oklahoma.  Kunkler has been active in many fundraisers and public awareness campaigns to assist with homelessness, the elderly, and children and families in
crisis and poverty.  Her personal interests are gardening, playing guitar and performing. She is an Iola resident and
mother of two children.
Contact: damaris.kunkler@thriveallencounty.org
Lisse Regehr, Director of Outreach and Advocacy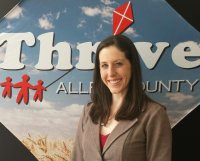 Lisse Regehr is the Director of Outreach and Advocacy for Thrive Allen County.  Regehr oversees all aspects of communications at Thrive including social media, website, print and radio.  Regehr has overseen the Navigator Program at Thrive since 2014, building it into a regional force that has reduced the county's uninsured rate from 21% in 2013 to 10% in 2016—one of the biggest improvements in Kansas. Regehr also oversees Thrive's efforts to build a statewide rural health advocacy network in Kansas, and coordinates engagement with state and local policymakers.
Prior to returning to her hometown of Iola, Regehr worked for nine years with the Sisters of St. Joseph Ministries Foundation in St. Paul, MN where she was a Planned Giving Officer and Social Networker. Regehr grew the Foundation's planned giving society by 35%, and as Social Networker, was responsible for all online communications for the Foundation, including social media sites, online giving sites and e-news distributions.
Contact: lisse.regehr@thriveallencounty.org
Ben Alexander, Deputy Director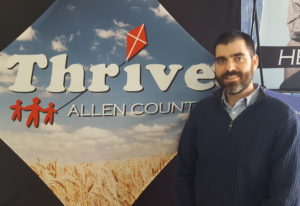 Ben Alexander is Thrive's Deputy Director and Grant Writer.  Alexander is the founder and former Executive Director of FreeWheels for Kids, a nonprofit organization in Kansas City, Kansas that empowers kids with bikes, giving them leadership opportunities, mobility and healthy habit to combat obesity. Mr. Alexander was the Director of FreeWheels for Kids from 2011 through 2015, when he left FreeWheels to finish a Masters of Public Administration degree from the University of Missouri-Kansas City, which he completed this year. In addition to his work with FreeWheels for Kids, Mr. Alexander has served on a number of community initiatives, including the Jersey Creek Trail Project, Healthy Communities Wyandotte, and Latino Health for All in Wyandotte County, Kansas. Along with his MPA, Mr. Alexander has an Environmental Studies BS, and a BA in Geography, Spanish, and International Studies from the University of Kansas.
Alexander and his wife, Sofie, relocated to Allen County from Kansas City in the summer of 2016.
Contact: ben.alexander@thriveallencounty.org
Bill Maness, Economic Development Program Manager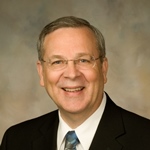 Bill Maness is the Economic Development Program Manager for Thrive.  An Iola native, Bill spent 25 years in a number of supervisory and management roles at the Iola facility for Haldex Brake Products before the company closed its doors in 2010.  Afterward he was employed by U.S. Senator Jerry Moran as district representative, serving 13 southeast and south-central Kansas counties.  Since 2000, he has also taught online business courses as an adjunct instructor for Allen Community College.  Bill holds a B.S. in Human Resource Management from Friends University.  He is a founding member of the Iola Community Involvement Task Force (CITF) and has also served as Mayor of Iola.
Contact: bill.maness@thriveallencounty.org
Jessica McGinnis, Chronic Disease Risk Reduction (CDRR) Program Manager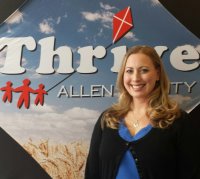 Jessica is Chronic Disease Risk Reduction (CDRR) Program Manager for Thrive Allen County. Jessica is an Allen Community College graduate where she played softball. She then moved on to obtain her B.A. degree in Sports and Recreation Management from Ashford University in Clinton, Iowa. Jessica's passion in sports and recreation started at a young age in her home town in Ottawa, Kansas with a family highly involved in sports and recreation. What began as a personal passion to play sports and gain knowledge in health and wellness, today Jessica's passion is to give back to the community and to educate Allen County residents about health and wellness. Prior to becoming an employee with Thrive Allen County, Jessica was a Family Support Worker with KVC Behavioral Healthcare in Chanute, Kansas where she worked with families and children in foster care. Jessica also was a volunteer with the Movement with Thrive Allen County and continues to volunteer with Iola Recreation coaching softball and being active in adult exercise classes and sports. Jessica is a resident of Iola where she lives with her husband, Jeremy and daughter, Riley.
Contact: jessica.mcginnis@thriveallencounty.org
Kelli Frazell, Healthcare Access Coordinator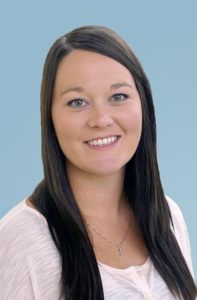 Kelli Frazell is an Allen Community College graduate who attained her B.S. in Exercise and Sports Science from the University of Tulsa and her M.S. in Sports Studies from the United States Sports Academy.   Before returning to her hometown of Iola, Kelli worked as an Account Executive for a marketing and graphics printing company.  Prior to that, she spent many years working for a non-profit organization in healthcare, holding several positions within the company.  Throughout her various positions, she became proficient at building relationships, partnering with organizations, increasing sales, and improving community well being.
Kelli enjoys spending time with family, staying active in team sports such as volleyball and softball, reading, and cooking.  Kelli is currently relocating from Tulsa, OK with her husband Preston and their son, Fisher.
Greta Ingle, Chronic Disease Risk Reduction (CDRR) Assistant and Office Manager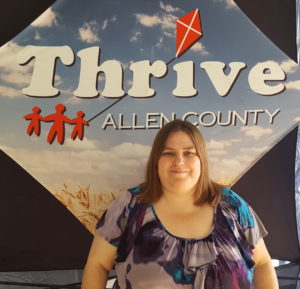 Greta Ingle is Thrive Allen County's Chronic Disease Risk Reduction (CDRR) Assistant/Office Manager.  Greta is also one of our most experienced Navigators, helping consumers enroll in insurance plans on the Federal Marketplace.  Greta grew up in Chanute, KS and moved to Humboldt when her daughter, Nisha, was a baby.  Greta lives with Nisha and spends her free time volunteering with various projects.  Greta has been a Navigator with Thrive for the last two years during open enrollment. She has also worked with the Farmers' Market in Iola and the Allen County GROW Council.
Contact: greta.ingle@thriveallencounty.org
Yvonne Scott, VISTA Healthy Food Access Coordinator
Yvonne Scott traveled 1000 miles from western North Carolina to Iola to to begin her second term in VISTA.  Yvonne previously served from 2014-15 as the Grow Appalachia gardening and food security coordinator for Wolfe County, KY.  A passionate "foodie" and gardener, Scott believes that access to healthy food and the ability to grow your own food is not just a right but a necessity for resilience and stability and promotes community gardens, composting, cooperatives and farmers' markets.  An avid traveler, she has hiked across Spain, taught English in Bulgaria, whale-watched in the Sea of Cortez, participated in an agroecology tour in Cuba in 2014 and picked raspberries in France. Scott is also a freelance writer on subjects from gardening and herbs to hot air balloons and local history. Her manual on food growing systems, simply garden small! was published in 2012 and currently available on Amazon Kindle. As a mother of four and grandmother of six, her mission is to leave the world more loved and healthy than she found it for future generations. And to save seeds.